*Note that this Website does not endorse any of the consumer adds listed at the top or bottom of this Webpage. So Caveat Emptor/Lector (Latin for let the buyer/reader beware) is highly advised for those who access these sites through this Website, since I cannot guarantee their veracity.

LS3/5A Insanity!
When a newer 60Th Anniversary version of this speaker was introduced a few years ago, it was priced at $4500, and this has since led to the run up in the prices of older BBC licensed LS3/5A speakers (from a number of different manufacturers). However, in the case of the 60Th Anniversary model, the price reflected the cost of materials and labor in the present day. Spending this much on a thirty to forty year old pair of LS3/5As whose transducers and crossovers are also that old is crazy.
Especially when taking inflation into account, since my $550 pair of LS3/5A's would cost around $1200 today. I'm not saying that these older speakers are not worth a premium, when they are in excellent condition. However, spending $3000 - $4000 on a pair of decades old LS3/5As (regardless of how good a shape they are in) is a bad investment. This is especially true for the ratty looking LS3/5As whose parts are several decades old, like a pair that sold on E-bay some time ago for more than $4500.
When These Speakers Are Out Pricing Brand New Offerings Of LS3/5A's - Including Those From The Latest BBC Licensed LS3/5A Manufacturer Falcon Audio - (A Company That Has Also Gone To The Trouble Of Tooling Up To Manufacture Original B110 Woofers And T27 Tweeters For Their Own Incarnation Of The Much Heralded 15 Ohm Version Of The LS3/5A!) It Is Just Plain Crazy To Spend So Much Money On Older LS3/5A Speakers Based Not On Excellent Sonic Performance, But Rather Nostalgia.
Paying so much is not even logical, much less practical. Rogers' 11 OHM version of the LS3/5A sounds just as nice as its 15 OHM sibling (and while not cheap, is a bargain next to the 15 OHM version of the LS3/5A). If you plan on keeping these speakers consider the 11 OHM version (which is more efficient than the 15 OHM version and can be partnered with a wider array of high quality low powered amplifiers), and save yourself a few grand in the process.
Bedini 10/10 Classic

*McIntosh Tuner Owners & Enthusiasts Can Click On The Following Photo of My Beautiful Circa 1963 McIntosh MR-65B (McIntosh's First Factory Offered Stereo Tuner), To Get Information On All MAC Tuners Beginning With The MR-55 Mono Tuner Of The Late 1950's. Over the years I have seen the MR-65B's price vary dramatically depending on its condition. The one at the following Website had been bid up to nearly $1200 on an Ebay auction - far more inline with Audio Classic's $2000 pricing for this particular unit in good condition. I own two of these beauties including the one in the following photo. In my opinion, the MR-65B is the most beautiful looking of all McIntosh tuners, and one of the best sounding FM tuners ever built.
JIMMYBLUES HI-FI COMPENDIUM
McIntosh MR-65B -- One of the rarest of all Mac tuners and most valuable -- Audio Classics sells these for $2000 in good condition (that is when they actually have them for sale at all). Given that they are nearly 50 years old, it's becoming tougher to find an MR-65B in nice shape. Only 1600 were ever built. The MR-65B was the first stereo tube tuner built by McIntosh. It was manufactured from 1962 until 1964. I have acquired two of these classic beauties since 2008. One is completely serviced and in a nice original walnut cabinet, while the other is sans cabinet and working in monaural only.
Both are in near mint cosmetic condition, with all lettering intact on one, and most of the lettering intact on the other. The chassis are without rust and the chrome is in excellent condition. Especially considering that these MR-65B's are nearly fifty years old! They are easily two of the finest remaining examples of McIntosh's first stereo tube FM tuner.
Classic McIntosh MR-65B Tube Tuner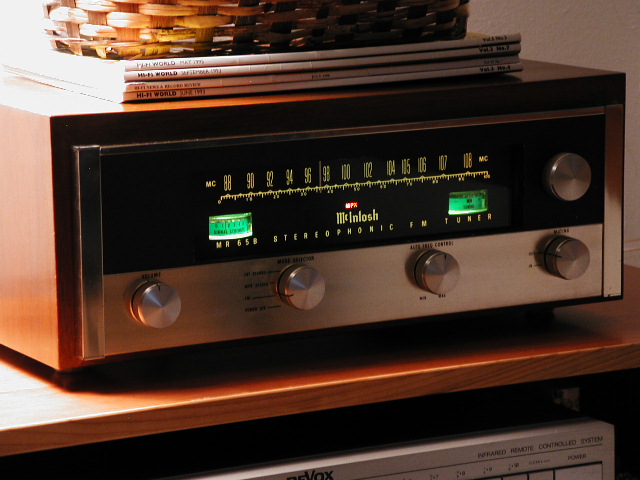 March Of 2018
Jimmyblues "Daily Driver" Hi-Fi System
Over the past few years I have been using more affordable audio components for daily use, and have been particularly surprised at how good they sound.
In the old days you could purchase cheap Hi-Fi gear, however, it did not sound very good and more times than not was anything but reliable. The Chinese have changed all that with their affordable audio equipment; it's well made, cleverly designed to a price point, dependable, and very good sounding. This is especially important given that most people now use the Internet as their primary source of both music and video; much of which represents an endless source of free audio and video content.
So do you really want to spend thousands or even tens of thousands of dollars on audio amplification and speakers, when the primary source you are using is a wireless device that can cost as little as $40 or $50? Or whose sonic failings can be easily exploited by expensive audio equipment, yet would for the most part be obscured by less expensive audio gear?
The key here is to create a well balanced audio system that faithfully honors the music by omitting anything that would detract from it.
In this case, less resolving power is better than the *tremendous resolving power found in expensive high end audio systems, which would **expose every flaw in your inexpensive audio source.
*Of course, if you're using a very expensive turntable, open reel or cassette tape deck, or compact disc player, then it would make sense to spend more money on your amplification and speakers. The rare strata of audio enthusiasts who maintain both expensive and affordable audio systems exemplify the aforesaid.
**The Chinese have figured this out and designed affordable gear that makes the most of your inexpensive wireless device by omitting as much of its sonic flaws as is realistically possible.
**China is no longer the only country whose audio companies have recognized the need for inexpensive, quality audio gear which integrates well with Internet streaming, wireless devices. Schiit Audio is an American audio manufacturer founded by audio design veterans Mike Moffat and Jason Stoddard.
The company turns out some beautifully engineered gear and their entry level components are as good as any you will find within their respective price ranges. Even better is that with the exception of some of the power supplies used in their entry level gear, most of Schiit Audio's products are actually manufactured in the United States. And yes, the name of the company is pronounced exactly as it is spelled! I recently purchased a Schiit Magni 3 headphone amplifier $99 + shipping) and Modi 2 Uber D/A converter ($149 + shipping) and I am amazed at the sound quality of these components as well as their construction.
Given the above, it is safe to say that it's now possible for anyone to put together a complete quality audio system for well under five hundred dollars (Many decent phono cartridges sell for more than this).
As for inexpensive wireless devices, this Hi-Fi enthusiast recently purchased an Amazon Kindle Fire 7 with a case and two year warranty for under $80. I added a pair of Koss KSC 75 portable headphones (a true sleeper for $12) and have a very nice sounding (albeit basic) audio system for about $90.
A really nice sounding solid state amplifier with a lot of flexibility for the money is the Dayton Audio APA150. Add an APA150 ($138 new on sale on E-bay) and an affordable pair of quality speakers like Pioneer's SP-BS22-LR ($99 pair new on E-bay - along with some quality speaker wire from "Amplifier Surgery" also on E-bay) to a Fire 7 and you have a very nice sounding home Hi-Fi for about $400.
The Dayton Audio APA150 is a bit short on gain so you can use an active line-stage preamplifier like Schiit Audio's Magni 3 ($99 - also a headphone amplifier) with the APA150 for greater volume. Some people have claimed that the APA150 does not play loud enough as an integrated amplifier, however, that's only because the APA150 is in reality a dedicated amplifier with a passive volume control. This means that for less efficient speakers the APA150 needs to be partnered with an active preamplifier with additional gain to sound its best.
For example, if you bridge a pair of APA150s for mono use with the Magni 3 headphone amp/preamplifier and Pioneer SP-BS22-LR loudspeakers, you'll get a pair of 150 watt per channel "sonic steamrollers" for under $300 the pair, and a complete system (sans source) totaling a little over $600!
If you like the sound of tube gear, yet, don't want to spend big bucks, here's another option. Purchase something like an FX Audio TU-01 line-stage preamplifier ($35 on E-bay) or a Little Dot ii MK II ($140 on E-bay and also a headphone amplifier) and a good pair of interconnects to interface one of the aforementioned preamp's with the APA150, and you'll have a surprisingly good system for under $500.
As previously stated, if you want more power add another APA150 (the APA150 also includes a 5 year warranty to the original owner - It usually sells for between $158 and $250 depending on the merchant, however, can be had on sale for under $140 during certain times of the year; especially around the Winter holiday season), and you'll have a 150 watt per channel (into 8 ohms) hybrid amplifier that competes favorably with systems costing at least three to four times the price.
The following is my present "daily driver" system, which offers great sound for the dollar and is a heck of lot of fun, since I routinely swap these components in and out of my Hi-Fi system depending on whether I want a warmer or more analytical sound.
Systemdek IIX w/ Jelco 370H oil damped tonearm (New Old Stock)- Grado Reference Platinum MM phono cartridge
Digital Gear: Kindle Fire 7 used as a music and video streaming device
Onkyo C-7030 compact disc player with Schiit Audio Modi 2 Uber D/A converter - 12 foot optical cable from BlueRigger Audio connecting the optical output of the C-7030 to the Schiit Audio Modi 2 Uber
Tube Linestage Preamps: Little Dot ii MK 2 headphone amp/preamp, FX Audio TU-01 preamp
Schiit Audio Magni 3 solid state headphone amp/preamp
Power Amplifiers: Dayton Audio APA150 amplifiers bridged for use as monoblocks (150 watts per channel into an 8 ohm speaker load)
KEF Reference Series 101 vintage monitors on dedicated Linn Kan I stands (81db@1watt amplifier power), Linn Kan I vintage monitors (83db@1watt amplifier power)
Amplifier Surgery 14 gauge (4 foot run of silver coated interconnects and 10 foot run of speaker cable)
Looking For Some New Music?
Who Isn't?
For those of you who are always looking for new musical artists (who isn't?), the following lady is truly a remarkable talent. And as you shall see, quite beautiful as well. Carolyn Leonhart is best known as a backup singer for Steely Dan, having recently toured with Becker and Fagan. Not one to give compliments freely, Fagan once referred to Leonart's virtuosity in the following quote: "this chick's one swingin' canary!" Don't be surprised if her sultry voice takes you back to extraordinary vocalists from another time, including Lena Horne and Ella Fitzgerald. And like the latter ladies of jazz, Leonhart, too, is truly something special.
More On Vocalist Carolyn Leonhart

See more on the famous Leak Troughline tuner:
Vintage Pioneer TX-7800 Tuner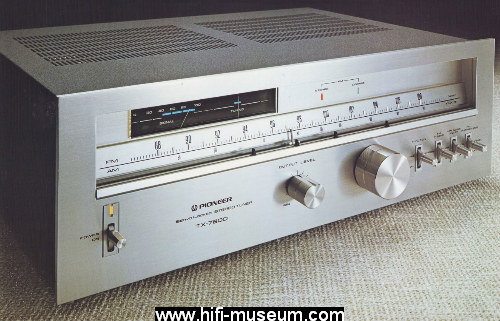 Classic Marantz Model 125 FM Tuner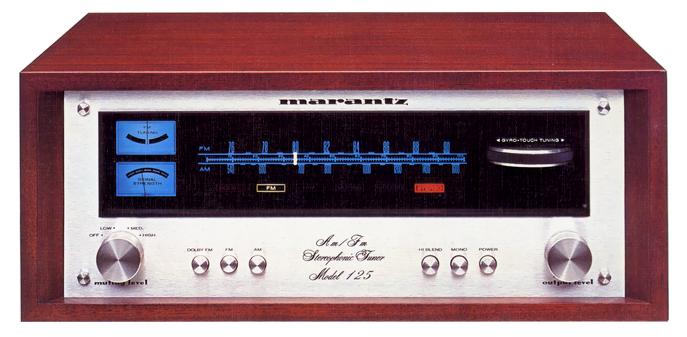 Some Recent Tuner Acquisitions
Revox B261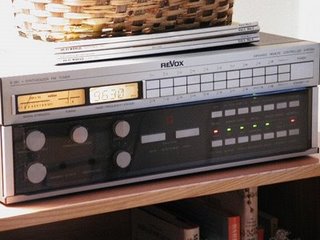 Revox B261 -- A behemoth of a tuner; beautifully built and great sounding -- the tuner website that did the shootout is a wonderful addition, and great benefit to this hobby. However, in my opinion the fellow who did the review of the B261 either had one that needed to be serviced, or has specific listening tastes.
A number of people have remarked at what a superb sounding tuner the B261 is and that it easily holds its own with its even more famous sibling -- the B760. And while I have never heard a B760, I have to say that the B261 is a superb sounding tuner, and in my opinion more elegant looking than the B760.
I have also noticed that the B760's regularly come up on the American Ebay site, however I have yet to see a B261 for sale on this site. I had to go to a foreign Ebay Website and use language translator software to purchase my B261 from a Swedish seller, who only spoke German. It was a lot of time and effort, but well worth it, since I finally have a tuner that I have wanted for many years. The B261 is a beautifully manufactured and engineered product that was built to offer years of faithful service.
*Note that the B261 has a green plastic strip installed between the two bulbs that are used to illuminate the tuning and digital readout displays, which gets burn marks on it after years of use, that diminish the intensity of the bulbs. Removing it altogether takes about 5 seconds, and brings back the brightness of these displays by a considerable margin.
Yamaha T-1
Yamaha T-1 -- The T-1 is a cool looking tuner from the late 1970's which offers excellent sound and good dx'ing performance. While not quite as popular as its T-2 sibling (another neat piece of gear with superb dx'ing abilities), which was minted around the same time, smaller in size and twice the price, the T-1 can be had for as little as $36 (one was recently sold on Ebay in poor cosmetic condition at this price) and as much as $200 for a mint one.
Most T-1's sell for between $50 and $80 in good shape; usually suffering from a blown lamp bulb or two. The bulb on the tuning dial which increases in intensity as you reach a station is usually burnt out on these thirty year old tuners, and needs replacement - what should be a relatively simple task.
According to the Tuner Information Center Website, Yamaha T-1's are very common and can be found for sale on venues such as Ebay on a regular basis. The T-1 looks super cool in the dark with its pretty green lights against its black faceplate.
Photo of T-1 atop T-2
Marantz Model 125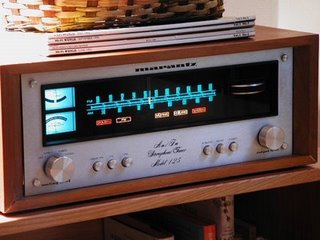 Marantz Model 125 -- One of the prettiest tuners ever made, and just as good sounding as the Model 150 (the two are basically the same circuit topology -- the Model 150 basically differs only in its use of an oscilloscope, while the the Marantz 125 uses two vertically mounted tuning meters).
As such, the Model 125 continues to rank as one of the best values in hi-end tuners. Regularly selling in good condition for under $300, and up to $400 for a mint unit, the Marantz 125 is an affordable classic that competes favorably with the best; even if its DX performance is slightly off that of the best tuners available.
Its wonderful sound quality has earned it the respect of tuner officionados the world over. And then there's that smoked perspex glass with the red, blue and tan lights, that is so reminscent of the flash of the 1970's audio market.
Some of my fondest earliest memories of music and audio are of a Marantz 2230 receiver that I'd gotten from my folks as a 16TH Birthday present back in the 1970's. I used to spend hours on Friday and Saturday evenings listening to groups like the Doobie Brothers, Steely Dan, Elton John, and Pink Floyd. Many times I'd find myself staring into the darkness listening to disc jockies like the "The Night Bird" (the late Alison Steele), while admiring the 2230's colorful facade. Even if it was just for a few hours at night, and despite the myriad of problems which the human race was experiencing at the time, during those few magical hours, all seemed right with the world.
The Model 125 shares this same facade - it's just plain cool to look at while listening to your favorite radio stations, and good value in vintage tunerdom. A tuner like the Pioneer TX-7800 given its similar performance and much lower selling price must be considered a great value.
Tandberg 3011A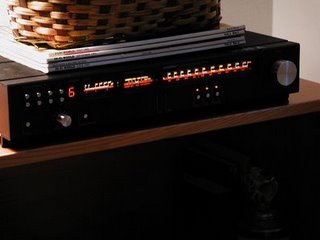 Tandberg 3011A -- A beautifully made and aethestic work of art, the 3011A is one of the nicest sounding FM tuners ever made. And like my old Saab 99EMS (also of Norwegian origin) equally as ideosyncratic. A good, but not great dx'er, the 3011A resides in a black aluminum low profile chassis, which sports a relatively large footprint. It's red, orange and white tuning lights offering a nice contrast to its black facia.

The 3011A sold new in 1982 for $695, but can be had in the modern day for as little as $225, for one which needs a new internal battery and new set of presets. While some have said that if the presets on the 3011A go bad (the same for its 3001A, 3001 and 3011 siblings), it becomes impossible to tune in stations, this has not been the case in my experience. The 3011A tunes in stations through a touch-tune system, in which the tuning knob will electronically disengage the moment that you touch it, only to reengage the moment that you remove your fingers from the knob.

The 3011A's controls have a precison feel to them that exudes an air of quality. If you're thinking about becoming a collector of vintage FM tuners, the 3011A is a great place to start.

Also see the Tuner Information Center (TIC) on the Internet, which is a superb Website for information on myriad tuners from the 1970's and 1980's.

NAD 402 Tuner W/NAD 304 Integrated Amp
NAD 402 -- NAD 402 -- Probably the best sounding tuner for the money ever built -- I paid $52 bucks for mine (plus shipping) in mint condition with original factory packing and manual. The only caveat was that the backlight for the tuner display had burned out -- a common problem with all NAD gear that employs the use of digital displays.
The British press went wild about this tuner back in the mid '90's, and after using mine for a few months I can see why. It has a rich warm midrange, with excellent DX capabilities, for an extremely modest price. If you can find one on Ebay in good shape for a reasonable price -- up to $100, snap it up. You won't be disappointed. The NAD 402 accomplishes the most important thing that any piece of audio gear can do -- it faithfully honors the music.
A Compendium Of My Hi-Fi Gear

Front Ends:
Digital:
Amazon Kindle Fire 7 For Music & Video Streaming

Onkyo C-7030 compact disc player with Schiit Audio Modi 2 Uber D/A converter - 12 foot optical cable from BlueRigger Audio connecting the optical output of the C-7030 to the Schiit Audio Modi 2 Uber

Analogue:
Turntable: Systemdek IIX/Jelco 370H Oil Damped Tonearm/Grado Reference Platinum MM Cartridge

Tape Decks:
Sony Pro-Walkman WMD-6C cassette deck
Nakamichi 700 Tri Tracer cassette deck

FM Tuners:
McIntosh MR-65B
Revox B 261
Tandberg 3011A
Marantz 125
Pioneer TX-7800
Sansui TU-217
Yamaha T-1

Preamplifiers:
FX Audio TU-01 Tube Line Stage Preamplifier
Little Dot ii MK2 Tube Line Stage Preamplifier/Headphone Amplifier
Schiit Audio Magni 3 Solid State Line Stage Preamplifier/Headphone Amplifier
Electrocompaniet Preampliwire IIa
Naim Audio NAC 62 & NAC 42.5 Preamp's W/ Hicap Power Supply
NAD PP-2 MC/MM phono preamplifier

Amplifiers:
Naim NAP 110
Electrocompaniet Ampliwire 65
Quicksilver Mini Mite tube monoblocks
Antique Sound Lab Wave AV25 tube monoblocks
NAD 3130 Integrated amplifier
Linn Classik CD/Receiver -- Used as tuner/CD player
(2)DAYTON APA150 Integrated amplifier
Nobsound MS-10D Integrated Amplifier

High Quality Monitor Bookshelf Speakers:
KEF Reference Series 101
Linn Kan MK V
Linn Kan MK I
Linn Kan I speaker stands

With so much equipment (actually there are other Hi-Fi enthusiasts with far more equipment than this), I am forever matching different pieces of gear to see how they sound compared with other components.
Of course, I change amplifiers and tuners more frequently because I own more of them. My current systems can always be found at the top of this Website. And given the myriad of permutations to be had with all of this equipment, you will find that I often change components.

Pioneer SP-BS22-LR Loudspeaker
About a month ago this Hi-Fi enthusiast decided to purchase a new pair of speakers to see how much affordable speaker technology has improved over the past decade.
I did some brief research based on the more extensive research done by a number of reputable Hi-Fi rags online, and learned of the Pioneer SP-BS22-LR speakers; a wonderful little transducer that's not only well made, but also surprisingly good sounding - and dirt cheap.
This little speaker is truly a small wonder. It only has a 4" woofer, yet, goes surprisingly deep given that it's only about 9 LBS.
As is the case with all good speakers, the SP-BS22-LR is critical of the material broadcast through it. And while tolerant of poorly recorded music, the SP-BS22-LR excels with good quality recordings and absolutely shines with well recorded live broadcasts via FM radio or Internet audio/audio-video streaming.
At about $120 for the pair, delivered it's no wonder why The Absolute, Stereophile and a number of other well regarded Hi-End audio magazines have raved about this little bookshelf monitor; actually making space for it within their hallowed pages of reviews for far more expensive audio equipment.
The fact that the SP-BS22-LR sounds great with my little SMSL SA50 integrated amplifier ($68.50 on Amazon.com) and only improves when hooked up to some of my more expensive hi-fi gear - such as my Naim preamps and ASL and Quicksilver tube amplifiers - shows just how well designed this speaker is.
And of course I can't leave out the most important part of the SP-BS22-LR - its highly regarded designer, the legendary Andrew Jones.
If you are looking for a great little sounding speaker at a ridiculously low price, you need look no further than the SP-BS22-LR.
Earlier...
Inside The Famous Electro 25

The thing about the Electrocompaniet gear that has always intrigued this author is (apart from its tube-like sound) the older gears' understated elegance. Not long ago, I came across some photos of an old Electrocompaniet 25 watt amplifier.
Its innards, as the readers can see in the above photo, reveal a clean design - employing the use of good components and excellent circuit topology. And the simplicity of its outward design is captured in the following photo.
The Classic "Electrocompaniet 25"
Electrocompaniet recently introduced a classic line of their gear, appropriately named after the original Electro 25 amp and preamp, which are pictured below.
For those who can afford it, the new Electro gear is reported to be quite musical; albeit expensive. This author also wonders if Electrocompaniet has established a more reliable dealer network in the United States, since historically, poor customer service has been the weak link in an otherwise fine product.
Last week, the fuse on my Electro AW 65 blew, so I am now waiting to see if the fuse went from old age, or if the amplifier needs attention.
Time will tell.
Earlier...
Vintage Naim NAC42 Preamplifier W/ Chrome Bumper Hi-Cap
Naim Audio NAC 42 vs 42.5 & 62 Preamplifiers
Since the mid 1980's when Naim Audio first offered its Hi-Cap outboard power supply for sale, there has been some question as to how much better sounding the .5 preamplifiers were when compared to their predecessors.
In this author's own experiences with Naim NAC 42, 32.5, 62 and 72 preamplifiers, I have found subtle yet noticeable improvements in each successive component. However, the 32.5 and the NAC 62 sound virtually identical given that they are based on the same circuit; the 32.5 having more frills.
However, I have not found the dramatic improvements in the second generation Naim preamplifiers that I'd expected, based on what I can only describe as enthusiastic sales hyperbole.
For example, when I compared the sound of my Naim NAC 42 and 62 preamplifiers via both their line stages, as well as the phono stages (using the same phono boards for each preamp), I found that the NAC 42 and 62 sounded extremely similar, displaying the typical PRAT (pace rhythym and timing) that Naim gear is noted for; the NAC 62 appearing to show a bit more improvement in the phono stage than the line stage, when comparing it to the NAC 42.
Moreover, I have read comments regarding the NAC 42 which indicate that it can not be used with a Hi-Cap power supply. This is not true, since the NAC 42 can be used with a Hi-Cap PS. However, it will only be able to take advantage of one of the Hi-Cap's 24 volt rails. And given that the Hi-Cap is a much larger power supply than the SNAPS, the 42 will display a noticeable improvement in sound quality when upgraded from SNAPS to Hi-Cap.
Upgrading to a 42.5 will, as in the case of the NAC 62, lead to subtle improvements, since the 42.5 and the 62 will utilize both 24 volt rails in the Hi-Cap. The NAC 72 will do the same, and shows a slight bit of refinement over its 42, 42.5, 62, and 32.5 siblings, thanks to its time alignment circuitry. Other than that the 72 sounds typical of the rest of Naim's gear.
Once again, this author must also emphasize that in my own listening sessions, there was little difference between the 42 and 62, and that the 42, in spite of its advanced years, acquitted itself quite well - the NAC 42 is still a fine preamplifier. That is, when it's used with a quality outboard power supply like Naim's Hi-Cap or later model supplies; although the cost of a Super-Cap (essentially two Hi-Caps in one chassis) makes little sense economically.
Whether or not it pays to convert an NAC 42 to a 42.5 is surely a matter of personal opinion. However, based on this author's own experiences, such an expenditure might make more sense further up the chain, regarding whatever source components the audio enthusiast is using to drive their system.

Earlier...

Naim's Cute UnitiQute
Streaming Audio On The Cheap
Every now and then I like to visit the Website of a high-end audio manufacturer to learn about their latest innovations.

I've been a fan of Naim Audio for more than two decades and have owned quite a bit of their gear over the years. Of course back then Naim was into purist audio and was just getting into digital the realm.

So, today I went to visit Naim's Website and read about its newest digital gear. I was particularly interested in the new Unitiqute integrated amplifier that Naim came out with back in March of 2010. It's a neat piece of gear that hearkens back to the early days of Naim, with its diminutive shoe box dimensions, and clean lines.

The Unitiqute reminds me of a modern day Naim Nait; albeit, a far more complex Nait than any to come before it.

The Unitiqute offers 30 watts of power per channel, digital streaming audio, facility for an MP3 player, a phono input, and several line inputs, for about two grand American.

It's not inexpensive, however, the Unitiqute packs alot into a small package, and appears to be built to Naim's usual quality standards.

Given the compression of digital audio, it's not about to replace FM broadcasts as the ultimate in radio anytime soon. However, with the ever decreasing quality of FM broadcasts, the shameful charity drives which are never ending and have come to characterize FM radio, and the annoying advertising, the ethernet has less to offer these days than it has in decades.

Furthermore, given the tremendous selection of free music now available through the Internet, it just makes sense to invest in streaming software, such as Apple's I-Music, for your home PC and MP3 player.

Scads Of Music To Be Had On The Cheap

This author recently purchased a new Dell netbook to use in conjunction with my aging Dell desktop system. One of the first things I did was to download Apple's latest I-Music software, which now enables me to hook my netbook up to my Linn Classic Music system and run streaming radio podcasts through my home hi-fi. There are hundreds of stations offering several different genres of music, virtually no commercial content or the broadcast medium's abhorrent propaganda.

Thus, my new netbook also serves as a decent radio for my vintage hi-fi system, without all of the aforementioned negatives of traditional FM broadcasts, including all of those dang commercials.

There's little doubt that the Internet as a broadcast medium, will eventually replace frequency modulation altogether; which in this author's opinion is presently giving us its final death rattle.

However, I don't plan on giving up my vintage collection of FM tuners anytime soon, since a quality FM broadcast can still dramatically exceed that of the best podcast.

When taken in the context of one's wallet, the Naim gear remains on the expensive side - as does all hi-end audio.

A Unitiqute/Unitiserve combo will allow you to do all of the things you can with your computer, a digital optical drive and your hi-fi system, but for about $5,000. This compares to about $2000 for a new *Linn Classik, $300 for a netbook, and $70 for an outboard optical drive; Under $2400 - half the price of the aforementioned Naim setup.

*Unfortunately, Linn has discontinued its Classic Music line; the second generation of the Classic lasting only a few years, and likely bowing to Naim's Unity series and its user friendly adaptation of the PC's MP3 & radiostreaming formats. Still, if you can find a used Classik on the market, you've got 50 wpc instead of the UnitiQute's 30, and a CD player & AM/FM tuner, all for a fraction of what the UnitiQute alone sells for new. Get yourself an optical drive (if your PC or MAC doesn't already have one) and you have all the benefits of the Naim package for a lot less money, plus a notebook computer with its tremendous flexibility. And sound that will certainly approach the Naim gear, given MP3's compressed format. We're not exactly talking about the greatest of front ends here. However, MP3's are far better sounding than early CDs were, and a lot more convenient to use. Enjoy the music!

Jimmyblues

Earlier




Conrad Johnson PV-3
Ever Had One?
In the more than three decades since I entered the enjoyable hobby of audio, I have owned a myriad of hi-fi gear; some pieces were quite expensive (even on the used market) while others were more reasonably priced.
And while I have owned equipment from some of the best manufacturers of the time (many of whom are still on the cutting edge of hi-end audio today), there is one company whose products I have always wanted to sample, yet never quite got around to purchasing.
And that's Conrad-Johnson.
CJ's equipment from the 1980's, has always intrigued me, given its clean design, excellent build quality, and myriad return trips to the Absolute Sound's recommended component's list.
*(That is after the Absolute Sound's Harry Pearson chastised messer's Conrad and Johnson for shoddy build quality - albeit great sounding equipment in the early days.) The Premier 3 and Premier I preamplifier and amplifier come to mind here - although there have been many other CJ entries which have made TAS's list of recommended components over the years.
However, with all of the hoopla over CJ's top end gear (and they do build some super expensive stuff these days), I have always found their little PV-3 of interest, given its simple design, clean lines, and affordable price.
The PV-3's a neat little preamp that one used to be able to pickup in nice used condition for a few hundred dollars, yet seems to be selling for more than that these days; that is when you can actually find a nice one for sale.
My current crop of vintage amplification is not particularly impressive. The gear's not expensive on the used market (although it was when new), and it can hardly be called impressive looking.
However, my old Electrocompaniet and Naim gear are to this very day quite musical, very cleverly and well engineered, interesting looking, and affordably priced.
As is my old and faithful daily servant during the warmer months of the year; a 1980's NAD 3130 integrated amplifier that I paid 80 bucks for on Ebay a few years back; a simple little 30 watt per channel integrated amplifier with both moving coil and moving magnet phono stages, which just happens to sound far more powerful than its 30 wpc.
And believe it or not, these two phono stages also sound good too. Especially when I play my Sumiko Blue Point Special MC cartridge through them! The BPS is a high output MC cartridge that oftentimes can sound better through the MM stage of a phono preamplifier, than it does through its MC stage.
What I cherish most in regard to these pieces of vintage gear is exactly what I regard so highly with the CJ PV-3 - excellent build and sound quality, and user friendliness. Maybe one of these days I'll find a PV-3 to snap up at a reasonable price and add it to the simple, yet enjoyable collection of vintage amplification that I am presently using.
What a great hobby! It allows you to play with neat electronics, like the Conrad-Johnson PV-3, while focusing on the most important aspect of their creation: music - lots and lots of really great music!
Earlier...
The Linn Classik Music System
The Linn Classik K - My Favorite High End Audio Component
By JimmyBlues
I've been dabbling in high end audio since the early 1980's, when a former aquaintence opened a small audio emporium on Long Island. His shop was always in the process of becoming completed, but this aquaintence and his former partner both spent more time getting high on grass than they did on researching the basic mechanics of running a business.
Within two years they were flat broke and offering up most of their remaining inventory at firesale prices.
However, during their first days in the business, they did alert me to the right audio magazines to purchase, including "The Absolute Sound." And these magazines were most helpful in the myriad of future purchases that I've made, as well as the few pieces of equipment which I'd purchased from these guys early on in their venture (one of the few customers who actually did buy equipment from them).
This gave me my start in Hi-End audio, and in the subsequent 25 years has allowed me to experience this wonderful hobby in ways that few enthusiasts can (thanks to Walt and Lennice at AudioMart).
In all these years I have owned much equipment, ranging from amplifiers and preamplifiers, to integrated amps, tuners, turntables, tape decks, CD players, and speakers. And while some of this equipment has been less than impressive, much of it has been, and left me with a yearning to constantly strive to find the best equipment available for a realistic price, which still "faithfully honors the music."
While most Hi-Fi buffs use either standard audio buzz words or ones of their own creation, I find that this term accurately describes what Hi-End audio equipment should be about.
Since the amplification components in any audio system (regardless of how expensive, sophisticated or fancy) should simply amplify the signal being sent through them, the job of creating such components would appear to be simple enough for most audio designers to achieve.
Yet, most manufactuers of mid-fi equipment fail miserably at this, and even many audiophile companies don't achieve the end result which they strive for: that of being able to enjoy listening to music through their own components - talk about frustrating!
And price does not necessarily seem to make much of a difference here either. At least not in all instances, as there are some absurdly expensive audio components on the market which fail to meet even this basic criteria, while other lower priced and on the surface lesser components come much closer to hitting their desired target.
The Linn Classik K is such a device. Ivor Tiefenbrun, CEO of Linn Products in Glascow Scotland, and his engineering team have worked a small, but very enjoyable miracle in his Linn Classik K. The Classik, and its sibling the Classik M (an audio/visual home theater center) are two specialized products that deliver the goods for little money (relatively speaking in terms of Audiophile equipment).
The Classik K not only includes an integrated amplifer within its diminutive chassis, but also a CD player and tuner as well. One would think that in attempting to create an "all in one" audio component such as the Classik, Linn would have created a jack of all trades/master of none device.
But after living with it for quite sometime now, I can honestly say that Tiefenbrun has succeeded in building a delightfully musical component, which achieves on a sonic level, approximately 80% of what some of the most costly and well noted audio components across the globe do.
And anyone who has been around the Hi-End as long as I have can tell you that this is NO small achievement.
At 50 wpc into 8 ohms, the Classik, when paired with efficient speakers such as Linn's Kans, offers an extremely satifying listening experience, never seeming overwhelmed by the sources played through it, nor clipping, regardless of how high the volume is turned up.
The soundstaging and imaging are also just right, leaving one with a palpable sense of what the composer is trying to convey in his written work, while demonstrating that you don't have to spend a fortune on audio equipment in order to obtain great sound; that is, when you ensure that the components in your audio system are properly matched with one another.
Moreover, the sense of both pace and timing with the Linn is also quite good, leaving the listener involved in the overall musical experience. What more can any audiophile ask for?
That the Classik can achieve such excellent sound at its price point is impressive enough -- that it does so while including all of the extras which most Hi-End audio equipment echews in the name of sonic purity, makes this gem even more purposeful.
Quite frankly, at its $1995 retail price point, this little CD/receiver simply has no competition at all. Something that few if any components can boast about regardless of their respective price.
In 2002, I purchased my Linn Classik at at time in which the dollar had gained strength against the British Pound, and got my Classik for $1350 plus tax!
I would have recommended the Classik as a best buy at its $1995 price, however, at $1350 it was a tremendous bargain. The new version of the Classik Music System takes on a more modern look, in keeping with the rest of Linn's electronics. It now retails for about $2300, although discounts are available. At this price, the Classik remains a good value, however is no longer the only CD/Receiver on the market. As the saying goes, imitation is the greatest form of flattery.
And while this author finds the earlier version of the Classik to be more aesthetically appealing, other audio enthusiasts may find Linn's newest version to be more in keeping with the modern look of their listening rooms. One thing's for certain. Linn continues to be one of the true audio innovators in the audiophile community, whose quality components offer years of listening pleasure and (in audiophile terms must be considered) good value for your dollar.
Here's To The Music!
Jim
Earlier...
Studer A726 FM Broadcast Monitor
What's The Difference Between A Revox B261 & Studer A726?
As the proud owner of a Revox B261 FM Broadcast Monitor, I was recently surfing the Web and found another tuner which I thought was a B261; except that the name on the facia was Studer, and the number of the model was the A726.
From what I can determine, Revox and Studer (Willi Studer) long ago collaborated on many different audio designs, which were sold under different names and with different nomenclature; the Revox B261 FM Broadcast Monitor, being one of such designs.
The only difference that I can see from outside of the Studer A726, is that it has XLR balanced output jacks, which should offer a subtle improvement in sound quality, if you are using the A726 with a preamplifier that has XLR inputs.
The other interesting thing that I've noticed was that while the Revox B261 seems to sell for anywhere from $300 to $700, depending on the condition of the unit ( and if it has the B201 or B208 remote system remote control - as well as the plexiglass cover which greatly enhances the facia of the B261), the A726 seems to regularly sell for at least $100 more.
The only other physical difference that I saw in regard to the B261 and A726, is that the A726 has rack mountable handles on its facade.
I would also like to give a caveat emptor/lector at this juncture, in regard to purchasing these classic behemoths. Both the B261 & A726 are extremely complex pieces of gear audio gear, and quite expensive to have serviced.
As such, purchasing one which may at first seem to be a bargain, but ultimately fails to function properly, can be a financial nightmare given their complexity, and the associated cost of parts (if you can even find these parts).
Therefore, it pays to be leary of the $300 B261 or A726, since you may end up spending more than three or four times that much to have these units repaired.
The B261 retailed for $1500 as early as 1982, which in the present day would translate to around $3400, taking into account inflation.
So it might be wise to pay a bit more for one of these units, than to settle for a less expensive one, which in the long run, may in fact not be the bargain the seller claims it is.
*Author's Notation: The Revox B261 is a rarity in the United States (likely due to its high price in the early 1980's), however, if you are willing to spend a bit of time, you will find them readily available on Ebay's European Website.
This author actually purchased a Revox B261 from a Swiss seller who only spoke German. It was only through the use of an Internet language translator that I was able to conduct business with this seller, and obtain my B261.
Then there was the need to convert dollars to euros, and the added risk of the seller not having a Paypal account in which to secure this transaction.
However, I really did want to obtain a B261, and did not know how long I would have to wait on Ebay USA before one turned up.
Moreover, the seller was good to his word, and did ship the B261 shortly after he received a wire transfer from my bank.
I did wait with a bit of trepidation while this transaction was carried out, but was pleasantly surprised to find a beautiful example of the B261 when it finally did arrive at my home several weeks later.
The total cost for the B261 was around $560 including shipping from Switzerland via Swiss Post; in this author's opinion a good deal, given that I would have had to spend more than $3000 to purchase a new B261 - that, is if they actually manufactured one in the present day.
The B261 really is an excellent performer, and likely every bit as good as its elder B760 sibling from the late 1970's, which usually sells for a few hundred dollars more.
Earlier...
Naim Audio 135 Monoblock Amplifiers
It was back in the early 1990's that I first purchased some Naim Audio gear. I had recently sold my Belles I amp and preamp (my first hi-end audio amplifier) and had decided to purchase some Naim gear from the local Naim dealer.
I purchased an NAC 42/NAP 110, which was nice enough. However, I shortly went back and upgraded to a Naim NAC 32.5/Hicap/NAP 110. I immediately noticed the significant sonic improvements with the addition of Naim's HICAP power supply. A year or so later, I traded the NAP 110 and some cash for an NAP 160, which was somewhat of an improvement over the NAP 110.
However, it was not until I found a pair of used NAP 135 monoblocks in the AudioMart magazine that I began to realize just how good the Naim integrated system of amplification could sound. (I have always regarded Naim's system of amplificiation to be integrated, given its ideosyncratic nature.)
At the time, the new cosmetic olive facia 135's had been introduced - essentially the same amplifier as the chrome bezzle model - however with a pretty green light illuminating the Naim Audio logo.
During this time the NAP 135 monoblocks were selling in the United States for about $6500 a pair through Naim's U.S. retailers, so I was elated to be able to snap up a pair of the vintage chrome bumper units for about $1800 on the used market.
I was even more impressed when I received the 135's and saw that they were in excellent mechanical and cosmetic condition, albeit with one of the units suffering from a slightly noisy cooling fan.
At the time my system was analogue only - An early "teak trimmed" Rega Planar 2 TT with the excellent Japanese Lustre tonearm, and the quite good (at the time) Rega R100 moving magnet phono cartridge.
The Rega fed my Naim 32.5/Hicap into the newly purchased NAP 135's via Chord Company interconnects. The final link in the system was a pair of *1986 Rogers LS 3/5A 15 OHM BBC monitors in teak - how I wish that I'd not sold them.
(*Which I purchased new)
This system was one of the most musical I have ever heard. The Rogers were highly inefficient, and made great use of the conservatively rated 75 wpc of the 135 monoblocks. The sound was characteristic of the typical pace-rythym-timing that the late Julian Vereker built Naim's reputation on. This particular system was always involving to listen to, even when I later added a Naim CDI compact disc player - to date the best sounding CD player that I have ever owned.
Most of all, the system had plenty of power, thanks to the Naim 135's; And I never managed to shut these amp's down no matter how loud I played them. The music through the Rogers always sounded full and involving to listen to, while imaging spectacularly. Even better than my Linn Kan I's. However, the Kan I's were clearly better for classical rock than the LS 3/5 A's, playing louder and throwing a wider soundstage. (IMHO)
The only shortcoming that I found with this system was that it was a bit analytical at times, as I found when later adding an Audio Research D70 MK II to my system.
However, overall, and given the price on the used market, the Rega/Naim/Rogers combo is still to this day a wonderful sounding music system, comprised of quality components which were built to last.
As such, if you have not had the opportunity to own a vintage Naim system incorporating a good quality turntable such as the Rega Planar 2 or 3, Linn Axis, Linn Sondek LP12 or Systemdek IIX (just to give you some ideas in regard to vintage TT's), this author would highly recommend doing so at your earliest convenience. Provided that this gear has been serviced and is priced accordingly, it will retain its value while offering a level of performance that new gear at a similar price point cannot begin to approach.
I have owned quite a bit of Naim gear since the early 9-'s, including several pairs of 135's, a number of their tuners, preamps, and power supplies. And I have always enjoyed "Naim sound" in addition to the clever design of the components.
The Naim power supplies also offer tremendous flexibility. For instance, years ago, I had a Naim Nait 3 modified to use with a Hicap power supply. This modification enabled me to run the Naim preamp section of the Nait 3 (essentially and Naim 92) through the Hicap and then back into the power amp section of the Nait 3 (essentially a Naim NAP 90 series 3), offering a significant improvement over the stock Nait 3. This mod also enabled me to use the preamp section of the Nait 3 with other amplifiers, and the amp section with other preamplifiers.
Another interesting combination was the modifcation that Naim offered for its SNAPS power supply, which could be used to power a Sony Prowalkman WMD-6C portable cassette deck. I have owned many expensive cassette decks over the years including a Nakamichi Dragon, ZX-7 and 700 Tri Tracer, and can say without hesitation, that the WMD-6C with the SNAPS mod put it in nearly the same league sonically as these top Nak's.
The Prowalkman WMD-6C is that good - provided that you can find one that hasn't been abused, since the earliest versions of the Prowalkman are now approaching thirty years of age, and the newest are nearly two decades old. This particular version of the Prowalkman is proof of the maxim that good things oftentimes do come in small packages.
Until Next Time...
Earlier ...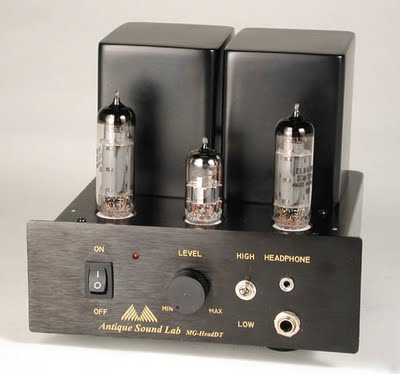 Antique Soundlab MG Head DT
Rediscovering An Old Friend
In the late 1990's, after I sold off the last of my hi-end audio gear, I purchased a Bose Wave Radio which served as my only connection to the world of music.
And I must say that at the time and to this day, I continue to be impressed with the overall simplicity of the Bose Wave Radio, its excellent sound quality, as well as its reliability. Mine must have close to 20,000 hours on it and it is still going strong after more than a decade.
However, by 2001 I began to miss having a real hi-fi system and decided to gradually return to the hobby through the purchase of an Antique Sound Lab MG Head DT headphone amplifier.
Antique Sound Lab is a Chinese manufacturer of quality tube audio components that has become a formidable competitor within the world of hi-end audio. Their products utilize quality components, including hand wound transformers which are constructed within a special section of the Antique Sound Lab factory; one that focuses on nothing but lost art of transformer manufacture.
Over the past few years I have made many purchases of vintage hi-end audio equipment which I discuss on this Website. And during this time the MG Head DT has been sitting idle.
However, the other day I decided to setup a dedicated area for this neat piece of ASL gear so that I could play my Ipod MP3 player through it at any time I wished to.
I found that the top of one of my restored vintage Linn Kan I's served as the perfect platform for the MG Head, since the Kan I was already set on a Kan I speaker stand and being used in my present vintage hi-fi system - A Systemdek IIX with Profile I tonearm and Sumiko Blue Point Special MC cartridge; Electrocompaniet Preampliwire IIa and Electrocompaniet Ampliwire 65 amplifier.
I installed two hooks, one to support my Grado 125 headphones, and the other to support the 12' mini-jack to rca cable. The mains plug for the MG Head DT was easily able to reach a power outlet that I am using for an aquarium setup, so the system is now complete. And within easy reach of my couch, allowing me to listen through my headphones at anytime that I choose to.
The IPOD sounds good on its own, however, when you run it through this single ended tube pentode amplifier, you hear a bloom to the midrange that simply does not exist with the IPOD itself.
The MG Head DT has existed in several incarnations since it was first offered to the public more than a decade ago, including later versions which boast output transformerless operation, and separate power supplies.
However, I find it difficult to believe that these later versions could offer sound that is much better than the unit which I am presently listening to. Thus, I can enthusiastically recommend this earlier version of the MG Head to anyone who has an interest in a well built and fine sounding tube headphone amplifier. One whose conservative looks make it appear as though it was built in the 1950's and not the new millennium!
As for specificiations: my version of the MG Head was the original single chassis unit, however with the following upgrades:
"Antique Sound Labs has upgraded its MG Head DT tube headphone amplifier. The upgrade includes a mini ALPS volume control for better tracking, MIT MusicCap capacitors in the audio path, higher capacity power transformer, and JJ vacuum tubes (two EL84 and one ECC83). The MG Head DT retails for $279 US."
Stay Tuned...
Earlier...
Nakamichi 700 Tri Tracer
One Of The First Hi-End Cassette Decks
Bedini 10/10 Classic

Bedini 10/10 Back Panel
Remembering That First Hi-Fi System

No matter how many subsequent systems we've all owned, most if not all of us remember the first hi-end audio system we purchased. It was the system that showed us just how good music could sound when well designed components were properly matched and setup in our homes.

It's been decades since I owned my first real system, however I still remember it fondly.

In 1982 I purchased a Rega Planar II with a metal Lustre tonearm and Rega R100 MM phono cartridge. The table immediately outclassed my Kenwood KA-8100 integrated amplifier, so in 1983 I purchased a Belles Research I amplifier and preamplifier.

The sonic difference between the Kenwood and Belles was not only immediate, but grew even greater the more I listened. My Sequerra Metronome Model 7 speakers added to this enjoyment.

However, in 1986 I decided to purchase a pair of 15 OHM teak Rogers LS 3/5A's and for the first time in my life I was actually in hi-fi Heaven.

I used this system for more than six years before I began upgrading again. However, it left its indelible mark on my hearing, since I now had empiracle proof that there was a demonstrable difference between mid-fi and hi end audio.

Since that time I have owned many systems and myriad pieces of hi-fi gear, ranging from vintage equipment from as far back as the late 1950's to contemporary gear. Virtually each piece has left me with a positive impression, and only furthered my belief that well designed and manufactured gear can still sound great even after it is decades' old - provided that it is properly maintained.

My newest project is to attempt to trouble-shoot the reason (s) why my Naim NAP 110 is blowing its fuse. I will update this particular project when I have ample time. The NAP 110 is a wonderfully musical 40wpc modular designed amplifier from Naim's early days. It was manufactured for the better part of a decade before being replaced by the NAP 140, and has earned many a fan throughout its existence. This particular 110 is in excellent cosmetic condition, so I am hopeful that by replacing its electrolytic capacitors, the fuse problem will be remedied.

Stay tuned...

Earlier ...




Naim Gear Back In System

Oh how I hate to get up in the morning's a famous song from myriad decades ago. I'd like to change the lyrics to that song beginning with oh how I hate to solder broken interconnects.

These wires are small to begin with, so they represent a challenge even when assembling a cable for the first time.

As for resoldering a broken connection to an RCA plug, forget it. By the time you get the old solder removed you've likely accidentally inhaled a fair amount of the stuff. It's much better off to avoid dealing with old soldered connections when possible and begin fresh with new RCA plugs.

Speaking of which, I recently decided to repair the Chord Company Cobra DIN-RCA cables that I had purchased about 15 years ago, which I then used when running my old Naim NAC72/Hicap with a variety of amplifiers that I'd owned at the time.

Several months ago I damaged the connections when moving my Electro AW-65 from the lower shelf of my hi-fi table to the upper shelf (without disconnecting them from the Naim 42/Hicap first).

When I went to turn the gear back on I heard nothing but silence. I thought from the getgo that the culprit would be broken wires within the cables, however, with twenty five year old gear one never can tell.

I put the Naim gear back on the shelf and hooked up my trusty old Linn Classik K and all was again well.

Recently, I put my Electro gear back in the system and it has been running quite well since the last electronic contact cleaner application that I used on them.

If you intend on purchasing vintage gear that is reported to be working properly at the time of sale I cannot recommend highly enough using a can of compressed air in which to blow out all of the dirt and cobwebs which have gathered over the years, and then liberally spraying the entire electronic circuit with a good electronic contact cleaner. It is amazing how much better this old gear works when doing these two simple things.

The other day I decided that I would put the Naim gear back into the system and give the Chord Co. cables another try. This time, when I moved the right channel cable around I heard sound coming from the amplifier. I now knew that it was the Chord Co. cables that were the problem.

However, the right channel sound soon went out on this cable as well and I knew it was time to either chuck the cables or to repair them.

The RCA end of these cables was where the wires broke off, and the old soldered connections became impossible to heat up. I decided to remove the RCA plugs altogether and to start fresh with a new pair.

Fortunately, I have a left over RCA - RCA cable from the pair which I purchased with my Quicksilver amplifiers back in late 2006. The other cable gave up the ghost about two years ago when it was stressed a bit too much - these thinner cables really are delicate and don't take any abuse before letting go.

I cut about a foot off of each side of the cable including the RCA plugs per side and began to strip the inner wire while twisting the ground wire into a neat arrangement. I then took my $4 soldering iron and some hi quality electrical solder and began the tedious task of grafting the bastardized Quicksilver cables to the Chord Co. cables.

Fortunately, when I turned the Naim gear on, it sent its signal to the Electro AW-65 which meant that the soldering job worked!

And surprisingly enough, the system sounds great, in spite of this grafting job. Three useless interconnects had become two worthwhile ones.

In reading through an old hi-fi magazine (I believe a copy of The Absolute Sound) I found an advertisement for a product called Tweak, which claims to be useful in situations in which it is impossible to obtain a good soldered connection.

The product was offered by Dayton Wright of Canada back in the 1980's. However, I have no idea how successful the product was or if it is even still available. I will take a look on the WWW to see if it is still offered. The company boasted that Tweak made a better connection than solder and could be used in difficult situations in which it was nearly impossible to solder a connection.

Stay tuned...

Earlier...

Leak Stereo 60
The Dilemma Of Buying A Vintage Amplifier
Most audiophiles have at sometime or another considered the purchase of a vintage piece of equipment to enhance their collection of hi-end audio gear.
The choice between vintage tuners and preamplifiers is a fairly easy one, in comparison to vintage amplifiers, because the prior are not subjected to the same constant stress that an amplifier is subjugated to.
Amplifiers, especially when driving difficult loads (AKA inefficient speakers), are subjected to undue stress and thus shorter lifespans.
This is true of new components, however even more so of amplifiers which are decades old and have already done a lifetime's worth of service for perhaps several owners.
Thus it is all the more surprising that audiophiles would invest large sums of money in the purchase of such amplifiers, given the inherent risk involved in utilizing components which are decades' old, and in many respects near the end of their useful lives.
While there are still many American vintage components to be found in the United States (however, not nearly as many as were once here before the very knowledgeable Japanese bought up much of this equipment), it is the vintage British gear which remains most sought after.
Amplifiers from those companies which pioneered what is today the audiophile industry; companies like Quad, Leak, Beam Echo, Lowther, and Radford, all of whom have made an indeliable mark on the world of hi-end audio.
And while there is no question that these components were beautifully engineered and constructed, and offered sound quality which is still enviable by today's standards, would you really want to spend a small fortune on such a component whose innards are anywhere from forty to sixty years of age?
Of course, resistors, capacitors and tubes can be replaced to update these units, as can other ancillary components. However, the "engines" which run these beasts (namely, their power and output transformers) are where the real problems can lie.
For instance, would you rebuild every part of a vintage car if you could not get the parts you needed in which to rebuild its engine?
Not if you were looking to keep the car in its original form.
Which makes it all the more puzzling why collectors of vintage amplifiers make such investments.
I have several pieces of vintage gear in my hi-fi collection, including a number of vintage tuners. However, I have avoided purchasing any amplifiers which are more than two decades of age, because of the transformer issue.
As it is, everytime I play a vintage tuner, tapedeck, or 80's amp or preamp, I wonder if it may malfunction due to its advanced age.
Which is why in my opinion, not only should one have a modern day system in which to use as a backup, but also several pieces of vintage gear in which to spell one another, thus easing the strain on these senior citizens of the hi-fi world. For instance, use one of your vintage tuners for a week or two, and then rotate it out for another tuner. After at time you'll also come to appreciate the differences in these pieces of equipment, which will also serve to make you more expert in regard to their performance and any possible ideosyncracies that they have.
These components have lasted for decades and in many cases serviced a number of owners; thus, they deserve respect - not to be disgarded in a trash bin.
However, when it comes to vintage amplifiers, the only sensible way to use them is as sparingly as possible, and with a variac, in which to slowly power them up before each use.
At the time that I was considering adding a tube amplifier to my hi-fi system, I had taken a look at a few of the Leak amplifiers or yore, including a Stereo 20. I had owned a groady but nice sounding Stereo 20 in the early 1990's which I purchased for about $400.
As I recall, it was a very nice sounding amplifier, which matched up quite nicely with my 15 Ohm pair of Rogers LS 3/5A's.
I was tempted to purchase another Stereo 20 when common sense took over and I decided to purchase a new tube amplifier with a full warranty.
I searched around for several weeks and eventually decided on a pair of Quicksilver MiniMite monoblocks - a delightful pair of 25wpc amplifiers which match up quite well with the two pairs of Linn Kans that I own; a pair of Kan V's which I purchased in 2002 along with my trusty old Linn Classik K CD Receiver, and an older vintage pair of Linn Kan I's, which I recently restored.
The Kan I's offer an efficiency rating of 86db for one watt of amplifier power, while the Kan V's offer 88db for the same amount of power.
Along with the Quickies, I also purchased a pair of Antique Sound Lab Wave AV 25's. A cute looking Chinese offering of surprising quality which also happen to sound quite good when matched with an efficient quality transducer.
As for the dilemma regarding vintage amplifiers, I have chosen to forego them in lieu of these fine new alternatives, which sound just as good if not better, and offer a full warranty and decades' less wear and tear on their components.
Hopefully, this advice may be of some help to those of you who are on the fence in regard to making such purchases in the future.
Stay tuned...
Earlier...
Electrocompaniet Preampliwire IIa & AW-65 Paired Again
Vintage '80's Electrocompaniet Preampliwire IIA & Ampliwire 65
My regular readers know how much I enjoy vintage hi-fi gear of all types, including amplification from the 1980's and earlier.

The vintage amplification that I own consists of the following:

Naim NAC42/Hicap/NAP110

*Also a second generation Naim NAC62 with the olive facia and pretty green Naim Audio light

NAD 3130 Integrated

Electrocompaniet Preampliwire IIA/Amplwire 65

Of the aforesaid gear, only the NAP110 has never worked properly since having purchased it in an Audiogon auction. The rest of the gear has functioned well either directly from the box, or after some minor servicing.

When I first received the Electro gear, the left channel of the AW-65 kept on fading out, and the Preampliwire's left channel was very noisy.

Since that time I have used a can of CO2 in which to blow out all of the cobwebs and gathered dust which has accumulated after more than two decades of use.

I also use an electrical contact cleaner in which to remove the oxidation which interferes with a good connection between the circuitry. This has been of great benefit in both Electro components, as well as my classic Nakamichi 700 Tri Tracer cassette deck from the 1970's. When I got the 700, it was not working well at all. The recording head was shot, and the playback head was only working on one channel.

The switches stuck and when depressed made lots of noise. And the tape mechanism was quirky as hell, allowing some tapes to be played, while the machine literally "ate" others.

Keep in mind that this is a 30 plus year old piece of gear that had been advertised on Ebay to have been serviced by a professional. However, upon receipt of the unit the only thing professional about this seller was that of con person.

Yet, after months of tweaking the 700 TT, it gradually began to work more reliably. After a time I decided to spray the entire unit with electrical contact cleaner, and the TT has continued to improve over time.

Playback is now working quite well, and the tapes that I record on my Sony Prowalkman WMD-6C Professional sound absolutely fantastic on the Tri Tracer. Both channels operating cleanly. The Nak's many switches now operating noiselessly as well.

Moreover, the bass from this classic piece of gear only furthers my belief that Nakamichi's earliest cassette decks were their simplest, as well as best designed and constructed. I have heard few reel to reels which can better the base response on a properly operating 700 Tri Tracer.

The 700 TT was an expensive beast in its day, selling for a cool $700 back in 1973. The 1000 TT was to my knowledge the only cassette deck in the world at the time that was more expensive, selling for an even grand.

Taking account for inflation the Nak Tri Tracer would sell for close to $3500 in the present day, which explains its "battleship" build quality.

In the past I have owned several of Nakamichi's cassette decks, including a ZX-7 and a Dragon. And while the latter two might slightly edge the 700 in overall sound quality, neither is built nearly as well. The Tri Tracer is a simpler design built to last a lifetime when well maintained, and as beautiful to look at as any tape deck ever made - short of the Nak 1000 limited edition of a slightly later vintage.

They can be a genuine bargain if they have been well maintained, however, many have been badly neglected, and parts availablity is not particularly good.

The other aspect to the 700 concerns its cosmetics. Many of these decks have facia's that are badly scratch, with cabinets that have been marred by myriad chips in the real wood veneer.

So the 700 Tri Tracer to be found on Ebay for a $100 or less may not be a bargain in the least if it is working improperly and looks groady to boot.

Nice cosmetic condition 700's that are sold as working perfectly can run upwards of $600 - $700, while those in decent shape can be had for as little as $200 to $300.

This author would avoid those which are found below these prices as the buyer may well be throwing away their money on a piece of gear which will not operate properly.

For reference sake, I paid $355 plus shipping for my 700 TT on Ebay and got a unit that was in near perfect cosmetic condition, yet needed a thorough servicing - even though the seller had claimed to have done one prior to its sale.

As always, caveat emptor/lector.

As for the Electro gear, it continues to operate better and better as the contact cleaner works off any left over oxidation, making the connections better than they've been in years.

At $300 for the AW-65 and $275 for the Preamplwire IIA, there is no question that these pieces of gear remain a real sonic bargain, easily outperforming any new equipment at more than eight times their price.

This Electro gear truly is a classic of the 1980's, and highly recommended if you can find them in nice condition. In my experience, the vintage Electro gear from the late 1970's through the 80's can be found for sale from time to time, however is usually snapped up quickly by officionadas of the brand. And while these pieces can be a bargain, some of the earlier gear is not so.

For example, the Electrocompaniet 25 from the 1970's and its matching preamplifier can sell for as much $1000 a piece on the used market. These early versions of what is easily one of the most famous audio amplifiers in the history of hi-end audio are characterized by their facias.

They don't say Electrocompaniet as the newer models do, but instead, the amplifier says "The Two Channel Amplifier" and the preamp says "The Two Channel Preamplifier."
The Classic "Electrocompaniet 25"
The Quicksilver 25 is my favorite low wattage amplifier, with this luscious bloom to the midrange that intoxicates.
Quicksilver 25
A Little Gem
The Electro 25 is also quirky in that the speaker posts are not located on the back of the amp where they can be found on later Electro designs, but instead, mounted on the right and left sides of the Electro 25 near the back, but facing out from the sides of the amplifier instead of protruding from its back panel.
The original Electro 25 designed by Dr. Matti Otala and Jan Lostro is a great sounding amplifier, but almost as quirky in its design as my old Saab 99EMS sedan. The fact that both were built in Scandanavia may have something to do with this. I can say the same for my Tandberg TPT 3011A FM broadcast tuner, which is beautifully constructed, excellent sounding, and equally as quirky in its design as the aforementioned.

Stay tuned...
Earlier...
Naim NAC42/Hicap Back Up & Running
Several months ago I went to move the NAC42/Hicap and exchange its position with the Electrocompaniet AW-65. Stupidly, I did not disconnect the Chord Company DIN to RCA interconnects and damaged the contacts in the cables. The result was no sound from the Naim gear when I turned the equipment on.
At the time I was uncertain if it was the interconnects or the Naim equipment itself that were the problem, however when placing the 42/Hicap back in the system yesterday, a channel began to work when I jiggled one of the interconnects, and remains working. The other Chord company DIN to RCA cable is not working and will need to be repaired or replaced.
Fortunately, the Naim gear is OK, given that it would be far more expensive to replace it than one of these cables, and difficult to find an NAC42/Hicap is such immaculate condition.
I had been using the *NAD 3130 integrated in place of the 42/Hicap and immediately noticed how much better defined the music became when being played through the latter gear. Naim's earlier gear, designed by the late and brilliant Julian Vereker, really was superb.
*A neat little 30wpc integrated from the mid 1980's, with plenty of flexibility and decent MM/MC sections, which you can purchase in nice shape for a under a hundred bucks these days.
I can't imagine, regardless of how much more you'd spend on *Naim's newer gear, that you would get that much better sound.
*If you buy Naim's current top line stuff you'd spend a fortune
Stay tuned...
Earlier...
Electro AW65/Preampliwire IIA Update
Regular visitors to this Website are familiar with the vintage Electrocompaniet gear that I use from time to time in my system.
Recently, the AW-65 after hundreds of hours of use began to make a bit of noise in its left channel again. However, a quick bath in electrical contact cleaner put it right. However, the Preampliwire IIA continues to have intermittent problems with its left channel, even after giving this unit a bath in the same cleaner.
There may well be a capacitor or resistor that is in the process of giving up the ghost. Time will tell. Overall, though this gear still has a wonderful Levinesque sound to it after more than two decades, at a fraction of the price of what most vintage Levison and Classe Audio gear is selling for nowadays.
I do miss some of the vintage gear that once owned from both manufacturers, including my Levinson ML-6A monoblock preamplifiers, ML-1 preamplifier, and Classe DR-2 and DR-3VHC amplifiers. All of which were built like Sherman tanks, and had a very clean, yet somewhat dark sound to them. They were not the last word in sound staging or transparency, but they added little to detract from the music, and could be listened to for hours without fatigue.
FMI 80 Speakers Refinished
A few posts back I mentioned that I was getting ready to refinish an old pair of FMI 80's which my Dad purchased back in the 1970's. The FMI 80's were sold both as a bookshelf speaker as well as the midrange drivers in Bob Fulton's Fulton J top end speaker. A speaker which Harry Pearson of The Absolute Sound Magazine once used in his reference system for a period of time.
Today, I sanded this pair of speakers and gave them a nice coat of Epiphanes spar varnish, which has given them the type of rich lustre, characteristic of a classic sailboat's brightwork.
The FMI's are nearly completely dry at this point and ready to be placed back into my Father's Hi-Fi system after a nearly two decade's hiatus. Given that its his Birthday, I'm sure that he will enjoy having these old friends back for an extended visit.
The Linn Kan I's that I restored sometime back, as well as the Systemdek IIX, continue to function perfectly, matching eachother in their piano gloss black paint.
Stay tuned...
Earllier...
KLH Model 8 Table Radio Added To Collection
Years ago, I purchased a well used KLH Model 8 radio for my Dad, which he used for several years before retiring it to his basement. Recently, I decided to ressurrect the Model 8 and put it into regular use again.
The KLH Model 8 was one of the earliest products manufactured by audio guru Henry Kloss (more recently of Cambridge Sound Works). In his early days, Kloss had teamed up with the legendary Edgar Villchur, whose designs helped to revolutionize the transducer (loudspeaker) and turntable.
The Model 8 table radio is the epitome of simplicty in its design. A simple enough circuit topology using vaccum tubes, the Model 8 comprises two wooden cases; one housing the radio, and the other housing its matching speaker. A few years later, (the late 1950's) Kloss designed the Model 13 stereo multiplex, which along with a second speaker, allowed the KLH Model 8 to reproduce stereo broadcasts.
Although I have never heard the sound of the Model 8 when used in stereo mode, the standard unit is very pleasant sounding, with a warm and inviting midrange which allows for hours of non fatiguing listening. And while the Model 8 is no DX champ, it does hold its own by bringing in a number of stations with surprisingly good sound reproduction.
In the past, I have found that the Model 8 really excels in the early morning hours (what tuner doesn't?) when there's far less RF interference for it to cope with.
FMI 80 Update
About a week back I had posted in regard to preparing to restore an old pair of FMI 80's. And while I have not gotten around to this yet, I will be doing so in the near future.
So stay tuned! ...
Earlier...
Restoring The FMI 80 Bookshelf Monitor
For those who remember the late Bob Fulton, Bob made some great speakers, which in their day were as competitive as any speaker on the market.
The Fulton J. system, which contained a pair of FMI 80 bookshelf speakers for the midrange drivers, were used by Harry Pearson of "The Absolute Sound" for a few years in his reference system, before Harry tired of Bob's constant updates; updates which resulted in TAS having to re-review the Fulton J. several times. However, the speaker was still for its day, one of the best on the market. And Fulton, in spite of his ideosyncracies, was a very decent sort, who made significant contributions to the audiophile industry during his years in the business.
On a 1970's trip to Atlanta, Georgia, my Dad picked up a pair of FMI 80's, which he installed in his system at the time - A Dynakit Pas 2 preamp, Dynakit Stereo 70, Fairchild 412 Turntable with the hysterisis motor, a Tandberg Series 64 reel to reel tape deck, and a Sherwood XSV 3000 tube tuner.
To this day I remember this system sounding fantastic. When I later put a new system together for him, I replaced the FMI 80's with a pair Creek CLS 10's, which while nice, were not in the same league as the FMI's.
And while the Linn Kan V's which my Dad presently has are in fact quite a bit better than the Creek CLS 10's were, the FMI's in someways remain superior to them.
Last year I decided to dig the FMI 80's out of the basement and hooked them up to see if they were as good as I had remembered them decades ago.
And after several hours of reforming the cones on the FMI's I was still amazed at how good they sounded. So, I've decided to restore this nearly four decades old pair of speakers by refinishing the cabinets. The drivers themselves are still in excellent condition - in fact the tweeters were replaced back in the early 1980's after I over expanded while using a DBX 1BX dynamic range expander, and took out both tweeters!
And while they still sound good, cosmetically, the FMI's are now showing their age with several nicks and scratches; most if not all of which can be sanded out. My plan is to varnish the finished product this time and to return them to my Dad for his latest system - A Rega Planar 2/RB250/Bias,Naim Nait 2, Nakamichi ZX-7, and Scott 350C tube tuner.
Stay tuned...
Earlier...
Refurbishing Linn Kan I's, Systemdek IIX & Yamaha T-1
Latest UPDATE: Project Finally FINISHED!
Yesterday, I finally finished painting the top to the Yamaha T-1 FM tuner. So now my three paint projects: Linn Kan I's, Systemdek IIX, and Yamaha T-1 are all completed.
As my regular readers will recall, when I got the Yammi the facia was in nice shape as was its mechanical condition. However, the top was a mess of scratches which had accumulated over the past thirty years.
And while the Linn Kan I's and Systemdek IIX were a breeze to prep and paint, the T-1 was more of a challenge. I also made the mistake of attempting to paint over the original paint, which left the surface of the T-1's top cover uneven. Adding insult to injury, I attempted to use primer over the paint and ended up with six coats - three of primer and three of paint - a complete and uneven mess.
*Painting the Kan's and Systemdek was easy because I could use a foam brush in which to smooth out uneven runs of paint. However, I did not want brush streaks on the metal cover of the T-1, which meant that I had to spray the paint very carefully.
I ended up using petroleum jelly to burn most of the paint off, and used a 60 grit sandpaper in which to remove the bits of paint that were left. Then I sanded with a 150 grit paper to smooth out the area a bit more. However, I did not want too smooth a surface since, the smoother the surface the more prone it is to getting scratched.
With bare metal showing, I then applied several coats of gray primer to the surface of the T-1's cover, and then several additional coats of Krylon black satin finish paint.
The T-1's top cover now looks brand new, and really completes the overall appearance of the T-1 with its beautiful black and green facia, highlighted by the red stereo and dx LEDS.
A word to the wise: remember that when painting a metal surface, one must hold the paint can at least 8 inches away from the surface, while spraying light coats of paint at least a minute or two apart. This ensures that the paint will dry evenly and save you the hassle of having to do the job more than once.
Moreover, avoid the instinct to over spray on areas in which the paint does not adhere during the first coat, since this will result in areas of "puddling" in which the paint will not dry properly. Several light coats of paint will ensure that the surface is adequately covered.
Future projects will include some work on my vintage Tandberg TPT 3011A FM tuner (the unit needs a replacement battery for the preset controls, as well as a new preset control, since the presets on my 3011A no longer function - a common problem with all Tandberg tuners of this period including: the 3011, 3001, 3011A and 3001A. Otherwise my example of the TPT 3011A is nearly mint and one of the nicest sounding FM tuners I have ever owned regardless of price. List price for the TPT 3011A was $695 in 1982 - Taking inflation into account here, the tuner would be around $1700 in the present day.
Stay tuned...
Earlier...
I finally got to painting the Systemdek IIX earlier this week, and the table looks fantastic, in a glossy piano black which matches the color of the Linn Kan I's perfectly.
Earlier today, I painted the cover of the Yamaha T-1 with a coat of primer, and then two coats of flat black paint. However, I applied a bit too much paint to one corner of the T-1's cover on the second coat, and instinctively went to wipe it off, which left a large smudge which I then attempted to smooth out and paint over.
I am now waiting for the cover to dry. If it does not come out right, I will simply sand the cover again and apply another coat of primer, and then a coat or two of flat black paint.
Stay tuned...
Earlier...
I've prepped the Systemdek IIX for painting and will shortly give it a coat of Rustoleum black gloss paint, so that the IIX will be an exact color match for the Linn Kan I's that I painted last weekend.
Stay tuned...
Earlier...
I finished the paint job on the Linn Kan I's on Saturday, and they really came out quite well. A piano black laquer finish has restored their lustre after at least a quarter of a century's worth of faithful service. And to think that they only cost $325 the pair, when tattered pairs of LS3/5A's sell for more than twice that, and mint copies sell for more than $2000 the pair.
The Linn Kan I is a veritable bargain as long as the drivers and speaker cabinets are sound. All this pair needed was the replacement of some rusty mounting hardware and a fresh coat of paint. The grills were in tattered shape, and I actually prefer the sound of the Kan I's without the grills, so I tossed 'em, as I did with the cheapo sock grills that came with Linn Kan V's; and began to tear less than a year later.
The Kan V are a most cost effective version of the Kan I, made out of particle board and covered in a black vinyl finish. If I had to choose between which speaker sounds better, I'd have to give a slight edge the the Kan I. However, there is in my own experience nowhere near the difference between the Kan I and V that I have read others posting of on the Web. The Kan V's may be built more to a price point, but they certainly hold their own against their vintage older sibling.
The Kan's & My Systemdek IIX
In fact, the Kan's have turned out so well, that they have motivated me to restore the finish on my Systemdek IIX turntable from the same vintage - early to mid 1980's.
When I purchased the Systemdek last year for the paltry sum of $310 plus shipping, including a very nice *Grado Reference Platinum MM phono cartridge ($300 retail new), I did some minor work on the unit including: adjusting the suspension, oiling the electric motor, and cleaning out and regreasing the platter's bering. That and a fresh coat of Lemon Pledge have gotten me this far.
Today, I removed the *bottom cover of the IIX as well as the Profile tonearm, and taped the spindle, tone arm base and the table's innards with plastic wrap. There is one very tiny area where the wood was chipped away by a previous owner, which I can repair with some plastic wood, before sanding the entire table down.
*I am debating whether or not to restore the bottm cover as well, or to leave it off as some other IIX owners have suggested. In all probability, I will just refinish the bottom cover when I prime and paint the top covers of the Yamaha T-1 and Sansui TU-217.
Once the sanding is done, I can apply a nice coat of Rustoleum black gloss to the IIX, which will nicely match the finish on my Linn Kan I's.
Stay tuned...
Earlier...

While much of the vintage gear that I have purchased over the past few years has been in excellent cosmetic condition, some pieces have been in need of refurbishment.
For example, the vintage pair of Linn Kan I's which I bought last year are in excellent mechanical condition, however in need of repainting. And along with this repainting, a bit of wood filler in order to get rid of some small nicks that have accumulated over the past three decades.
The Yamaha T-1 tuner which I also purchased last year (manufactured in 1978) is too in need of some cosmetic attention. For instance, the cover to the unit is badly scratched and in need of priming and repainting (which will be done over the next few days).
More minor issues include some light abrasions to a few of the corners on the T-1's faceplate. Overall, not a major issue, since the faceplate is for the most part in excellent condition.
I will include a few photos (when time allows) of these refurbishments, and I encourage those who may have also purchased vintage gear which is in need of such attention, to try their hand in taking on what are usually relatively simple and enjoyable tasks.
Caring for a nice piece of vintage hi-fi equipment which oftentimes is far better constructed and sounding than more contemporary gear, is a very satisfying experience.
UPDATE:
Today I taped up the drivers of the Kan I's and sanded both speakers. Yesterday, I replaced the 10 mounting screws for each speaker, given that the tops of many were rusted. On the warm sunny day, I will give both speakers a coat of black rustoleum paint which will restore their original lustre.
I am also in the process of giving the Yamaha T-1 tuner a primer coat, in order to fill in some of the deep scratches on the surface of the cover. The cover will then receive a coat of gloss black Rustoleum paint.
Stay tuned...
Earlier...
Linn Classik Back In Full Service
For months I have been using the Linn Classik K simply as a CD front end in which to drive my vintage amplification.
However, yesterday, when attempting to move the Electrocompaniet into the bottom of my stereo cart, and place the Classik where the Electro had been, something strange happened. I could get no sound out of the system. I quickly swapped the Electro out for the ASL Wave 25 monoblocks and still heard no sound; obviously the Electro and ASL mono's were fine. There was something amiss with either the Naim 42 preamp, Hicap power supply, or the Chord Company green din to RCA cables used to connect the NAC 42/Hicap to the Electro.
I have not done a full scale check yet, however, I suspect that the trouble is with the Chord connections. These cables are nice sounding, however like most interconnects (unless they are of an extremely low gauge), they don't stand up well to being constantly removed and reinserted into the sometimes myriad pieces of gear that Hi-Fi enthusiasts are prone to own. In doing so, it's only a matter of time before the internal micro gauge wiring breaks off from the deltron fittings and you're left soundless.
So for the time being, I am just happy to have the Linn Classik back in "full service" as a CD/receiver with its remote control, while giving the Naim gear (which has performed quite well over the last several months a nice rest). Keeping the Classik in the standby mode allows for ease of use as long as you have Linn's ideosyncratic remote control at hand - a remote which I must admit takes some getting use to, yet is very convenient to use once you get the hang of it.
Moreover, given that Spring is here and the warmer weather is just around the corner, it's about time to put the tube amps back on the shelf until the cooler months of Fall are again upon us.
The Classik and my vintage NAD 3130 will now be the primary amplification used during the warmer months of Summer.
Stay tuned...
Earlier...
Kenwood KT-5300
Photo Courtesy Of TIC
How Much Music Does $29 Buy?
The Kenwood KT-5300 is the least expensive tuner I have ever purchased, selling for $29.99 on Ebay, several months ago. (Other people have paid as little as $5 for this tuner, yet at least one paid over $125 for a mint one with its wood cabinet).
At its price, you would expect that the KT-5300 does nothing exceptionally well; and it doesn't. However, like every Japanese solid state analogue tuner that I have ever heard from the 1970's (and I own a few of them), the KT-5300 sounds quite good. And while other tuner hobbyists have claimed that the KT-5300's DX'ing capabilities are not particularly impressive, I have been able to get just about as many stations on it here in the hills of Long Island's North Shore, as I have with any of the other tuners that I own - which is to say, quite a few stations.
Based on my own experiences, there's something to be said for solid state tuners with simple circuit designs. They just seem to sound better than many far more expensive and fancy tuners that have a lot more features.
The KT-5300 and the Sansui TU-217 are two excellent examples of a no frill's tuner; two very basic tuners which just happen to pull in a fair number of stations, while managing to sound far better than your average modern day tuner. And the fact that they have decent AM sections, as well as a monaural switch is also to their benefit.
How many times have you heard a song that you would liked to have listened to, yet because the station was weak, and your tuner did not have a mono switch, chose to forego in place of a stronger broadcast?
If you're like most modern tuner owners, I'll wager that this has happened to you myriad times in the past.
*******************
The following was written shortly after I received my KT-5300 FM tuner, several months ago:
I just opened the cover for the Kenwood KT-5300 only to find that unlike some of the other recent tuners I have purchased, this one was as clean as a hound's tooth. And I don't think it's because anyone cleaned it up either. This tuner has a sealed case containing no venting whatsoever, which has kept thirty plus years of dust from landing on its innards. So there's nothing left for this tuner, but to do what it was designed to do -- broadcast music.
Earlier....
The Kenwood KT-5300 was delivered this evening and after a quick dusting off has been playing happily for the past hour or so. This is the cheapest tuner I own and nothing special in terms of sound quality or DX'ing capability.
However, after using some rubbing alcohol to clean off two annoying marks on the facia, it's as cute as the dickins, with a small chunky shape and single tuning meter for the AM/FM sections. It has a nice contrast of colors between the silver faceplate, white tuning dial and gray background behind the dial, all set off by the tiny red LED stereo indicator.
And surprisingly enough, on a quick trip through the dial it brought in a number of stations quite well (of course I live in a great area for FM reception -- a tuner lover's dream in fact).
I will open the cover and blow out the dust and possible cobwebs that may be there after 31 years. According to TIC (Tuner Information Center Website) this tuner was minted in 1977. And when I get a chance, I'll also clean the tuning dial (of course avoiding the actual print on the dial. -- Made that mistake with an old Pilot tuner of my Grandfather's, which is another project down the road).
Stay tuned...
Earlier...
Sansui TU-217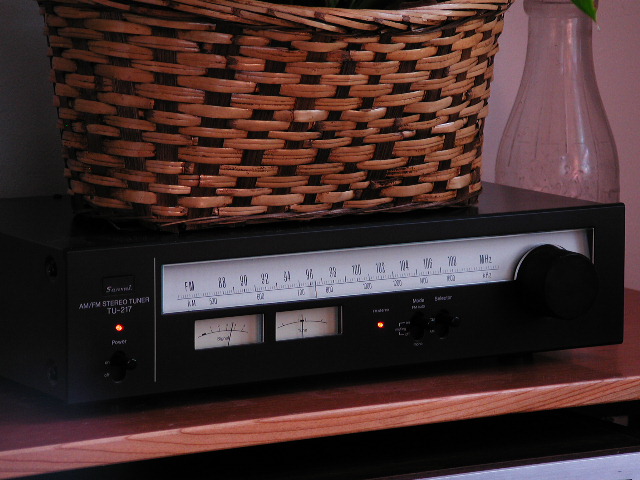 I purchased the TU-217 in the above photo about the same time that I purchased my Yamaha T-1 and Kenwood KT-5300. The Sansui TU-217 is the definition of simplicity in tuner design, even eshewing backlit tuning dials - the likely reason why the white face on this tuner is almost luminescent (no it doesn't quite glow in the dark, but at first look you'd think it would).
The Tuner Information Center (TIC for short) rated this tuner highly for sound quality, but less so for it's sensitivity. However, living in the hills of Long Island's North Shore, sensitivity is not really a problem, so the TU-217 absolutely shines in this environment. It is in fact a great sounding minimalist AM/FM tuner with a non fatiguing sound that remains pleasant to listen to for hours on end.
Unlike the Pioneer TX-7800, which at $59 was a real bargain (I just saw a near mint one like mine, minus the wood cabinet sell for $152 on an Internet Website), the TU-217 at $70 was less so; however the unit is in excellent functional and cosmetic condition, and would cost close to $600 in the modern day to replace (taking into account inflation and its late 1970's $190 retail price).
Photo TU-217 Dwarfed By The TX -7800
Stay tuned...
Earlier...
Pioneer TX-7800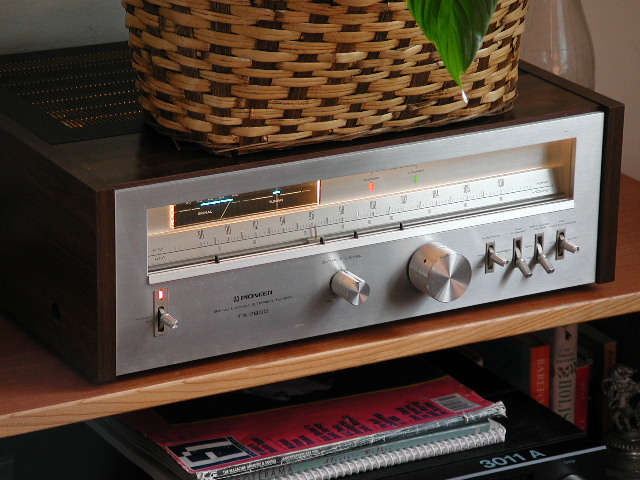 $59 Can Still Buy Lots Of Fun
Not much short of a year ago, I had read a good review of the Pioneer TX-7800 on the Tuner Information Center Website (a font of information on AM/FM tuners from the 1970's and 1980's). The TX-7800 received high marks for its dx'ing capabilities (the best dx'er I have yet owned), as well as its sound quality. What came as a pleasant surprise was its clean appearance; an easy to read tuning dial with its blue, red and green lights setting off the TX-7800's silver tuning dial.
At $350 new in 1979, the TX-7800 was not inexpensive by 1970's standards, and would cost somewhere just North of $1000 in the present day. To say that finding one in near mint condition for under $60 is good value is an understatement.
In a day and age where Marantz 10B's in decent shape are selling for well over two grand, Japanese tuners of the 1970's like the TX-7800 represent a tremendous value. Especially when one considers that other Japanese solid state analogue competitors from the same decade, like the Marantz 125 for example, are selling for up to five times what the TX-7800 is selling for, and are no better (if as good) in regard to their dx'ing capabilities or overall sound quality.
Based on my experiences with the TX-7800, I would have gladly paid $150 for the near mint condition one which I bought through Ebay; one which as you can see in the above photo, has a near perfect faceplate and matching veneer cabinet.
If you can find one in nice shape (especially if it's been serviced), you may want to consider snapping it up before another lucky tuner junkie does.
Stay tuned....
Earlier ...
The NAD 3130 Integrated Amplifier
Simply put, the NAD 3130 integrated amplifier has got to be one of the best values in used integrated amplifiers in the past three decades.
It's well constructed, sounds surprisngly good for a little 30 watt per channel amplifier, and has the flexibility of a Swiss Army Knife.
I really like this amplifier for its simple circuit topology and utilitarian approach to music. And like NAD's PP-2 phono preamplifier, this thing is cool!
What makes the 3130 even more special is that it was built at a time when analogue was still important enough to include both decent M/M and M/C phono stages in affordable integrated amplifiers; something that is no longer done.
Today, most integrated amplifiers (especially affordable ones) are line stage only. Meaning that you must purchase a separate phono preamplifier and run it to the auxillary input on the preamplifier section of the integrated in order to use a turntable with the amplifier.
Also consider the flexibility of being able to use the 3130 as either a separate preamplifier, amplifier, or a fully integrated unit, and you have a very special, yet affordable piece of hi-fi gear which is quite literally a steal at its current selling price range -- between $80 and $140 depending on overall condition and whether or not the unit is sold with its original factory packing.
I usually listen to the 3130 during the warmer summer months, since it runs fairly cool and can be left on for hours without concern for its overheating -- providing that it is kept in an area in which its top cover is left with several feet or more of space above it.
This unit continues to impress me as both a separate component as well as an integrated amplifier, and I consider the $80 that I spent for it on Ebay about a year back well worth the investment.
I also believe that the 3130 is one of the best laid out NAD integrateds to come off the assembly line, offering long-term reliability (perhaps because of its low power -- some higher power NAD integrateds were known to be problematic, including at least one model that had a reputation for catching fire!). The 3130 is one of those amplifiers that does nothing especially well, yet is never fatiguing to listen to, while always remaining faithful to the music.
If you're lucky enough to find one that has been used with efficent speakers and not over taxed, you may want to pick it up as a spare unit. Just don't be surprised if you find yourself listening to the 3130 more than you intended to. It really is a very pleasant sounding unit that is very forgiving of most sources.
Just be aware that some of these units suffer from cold solder joint problems which will hamper performance or render them unsuable until the joints are repaired.
Stay tuned...
Earlier...
Another Use For The NAD PP-2
In the past I have marveled at the minimalist nature of this jewel of a phono preamplifier, for its sound quality, diminitive size and overall simplicity. The PP-2 looks good; sounds good; and won't empty your bank account.
Recently I decided to move my Systemdek IIX turntable to a remote bookshelf in my den, having forgotten that the table needs a ground in which to prevent hum from its motor.
When the table was cited near my Naim NAC42 peamplifier, this was not a problem, since the NAC 42 provides a facility for the ground wire on the Systemdek.
However, when joining the Systemdek's cabling to a 30 foot long run pair of cables which went to the phono section on the NAC42, there was no place for the table's grounding wire. I decided to take the NAD PP-2 out to determine if it could be used simply as a ground for the Systemdek, without actually using the preamplifier itself; low and behold, it has worked out nicely as a grounding point for the Systemdek, while I run the dek into the NAC 42's phono section from the other side of the room.
This was the kind of pleasant surprise I found with my Bose Wave Radio, when running it from its variable jacks to be used as a credible tuner source with my hi-fi system. Running the Wave Radio from its variable outputs turns the Bose speakers off, so that it can be used as a dedicated AM/FM tuner. The end result was a tuner that pulled in just as many stations as the best of my vintage FM tuners, yet with the benefit of a remote control function as well as a digital and programmable clock.
An interestingly enough, the Bose Wave Radio didn't sound half bad when used as a dedicated tuner. In fact, aside from the fact that it did not have much gain (resulting in the need to turn the volume control on the Bose way up to get moderate sound levels), the unit actually sounded suprisingly good.
If you have one that you're using as a radio or that's sitting around gathering dust, you may want to try using your Wave Radio as a dedicated FM tuner, since the dxing capabilties of the Bose are quite good and may bring in some stations that you could not get on that expensive FM tuner that came so highly recommended!
Stay tuned...
Earlier..
Nakamichi 700 Tri Tracer
The NAK 700 Tri Tracer Rises Like A Phoenix
*UPDATE - February 2009 - The Tri Tracer initially worked well on playblack when I did the service listed in this post, only to later give up the ghost in its left channel.
Since the unit also came with a din to din interconnect (which just happens to match up with my Naim NAC 42 and 62 preamplifiers), I decided to hook the Tri Tracer up to my NAC 42 to see if there would be an improvment, and sure enough, not only did the left channel begin to work again, but both right and left channels were noticeably cleaner sounding then when heard through the RCA output jacks.
Of even greater note is that both channels are now working in the record mode (albeit a bit noisy), and with dolby B on sound pretty good.
I will continue to experiment with this Tri Tracer's recording features, but am extremely pleased that the deck is now sounding quite well through right and left channels.
Once again, I did a basic clean up on the unit several months ago, blowing out the cobwebs on the chassis with a can of CO2, while spraying anti corrosive cleaner throughout the tape deck.
I did the same with my old Electrocompaniet AW-65 amplifier and it has since worked flawlessly - and is presently being driven by my Naim NAC42/Hicap preamplifier, and sounding quite good. The whole system being driven by my Pioneer TX-7800 (a real sleeper which I paid $59 in near mint condition with a wood veneer cabinet), the Nak 700 TT, the CD section of my Linn Classik and my Apple IPOD MP-3 player.
Thus, there's lots of music to enjoy here while I give my beloved Systemdek IIX & Sumiko BPS MC phono cartridge a well needed rest.
Earlier...
Those of you who follow this hi-fi blog regularly will remember that a few weeks ago I decided to do a simple service on my vintage '70's Nakamichi 700 Tri Tracer cassette deck, in order to cure a problem with errant noise in its left channel. I performed a very similar simple cleaning (with CO2 can in hand) as I did with my Electro amp and preamp in which to blow out the many dust bunnies and cobwebs which had settled in the chassis of the 700 over the past three and half decades.
The service to the Electro worked like magic and the Preampliwire IIa and AW-65 continue to work flawlessly since doing this basic service, which included spraying their innards with electrical contact cleaner.
However, things did not go as well for the Nakamichi 700 TT, which began acting very strangely after its chassis was sprayed with the same cleaner. Not only would the left channel not function (the primary reason for the service), the unit's electrical sensors began functioning improperly. The pause button would light at turn on and stay on; even when I would press the play button to listen to a tape.
However, I was not overly concerned. In the past it has been my experience with electrical gear that the best thing to do is to just spray the entire circuit assembly with electrical contact cleaner and then simply wait for the cleaner to do its job. I figured that by allowing the 700 TT to sit for awhile, the oxidation which has built up over the past three and a half decades would eventually be burned away by the contact cleaner, and that the Nakamichi would eventually start to function as it should.
My patience has now paid off, as the 700 Tri Tracer is again working quite well, with both channels playing clearly. However, I did notice with one of the controls just a hint of static which went away by pushing the button in and out again. So I may need to spray a bit more contact cleaner on this button in order to remedy this if it becomes problematic -- however, I don't think it will.
So it's nice to report that the beautiful looking Nakamichi 700 Tri Tracer that you see in the above photo is again up and running and sounding excellent. I have owned a few Nak's in the past including a Dragon and ZX-7, and the 700 TT holds its own with both of them sonically and easily surpasses both in its overall build quality. The 700 TT is quite literally built like a tank. I use the 700 for playing back tapes, and my classic Sony Prowalkman WMD-6C for making cassette tapes. A good combo, since both are two of the best sounding and built cassette decks ever made (this is especially true of the WMD-6C, despite its diminutive size).
Stay tuned...
Earlier...
Vintage Systemdek IIX W/Vintage Platter Matter (MAT)
About 15 years ago I sold off my last turntable and most of my record collection opting for a simpler music system -- A Bose Wave Radio.
Surprisingly enough, the Wave Radio turned out to be better than I would have imagined, given its diminutive size. However, and inspite of what Bose will tell you, it will never replace a well balanced hi-fi system composed of well designed and built equipment.
Over the past few years I have gotten back into hi-fi and purchased quite a bit of gear. Amongst these pieces of gear is a very well used Systemdek IIX turntable sporting its original (and also well used)Profile I tonearm.
I decided to purchase a used Sumiko Blue Point Special moving coil cartridge which has turned out to be the perfect complement to the Systemdek. This is a turntable that is relatively simple to adjust during initial setup, and which just happens to sound excellent. Like the Linn LP12 which Systemdek (the old Ariston Company) obviously attempted to emulate in a more affordable package, the IIX quickly won many fans who spent most of their cash on albums instead of an expensive analogue playback system.
In the modern day the IIX has become a highly sought after prize for those who still enjoy spinning vinyl. It remains affordable, reliable, and most of all faithful to the musical experience.
When my IIX arrived, all that I had to do was to clean out and regrease the main bearing, oil its electric motor, and adjust the three point suspension which has always given it a sonic advantage over similar rivals like the Rega Planar 3.
With that done I was ready to start spinning my albums (several of which have been purchased since that time) and enjoying the music.
If the Systemdek IIX is not the best deal that I have ever made in used hi-end audio, it ranks well within the top five purchases that I have ever made in this hobby.
Systemdek IIX's come along on Ebay on a fairly regular basis. However, not enough so that you might pass on one which is up for auction at a given time. The only caveats to the Systemdek are to be watchful for a main bearing that has warped over time, a burnt out or extremely noisy *electric motor, or a tonearm who's ball bearing has worn enough to adversely affect the tonearm's tracking ability.
*These motors, as Systemdek notes in its IIX owners manual, were very powerful and conservatively used in the IIX, which explains why with a few drops of lubricating oil from time to time, these tables are still going strong -- some after more than a quarter of a Century.
In my opinion the Systemdek really has earned its nickname of the "Poor man's Linn LP12." Especially in the way in which it gets the pace, rythym and timing of the music right -- something that both Linn and Naim audio are known for in their hi-fi gear.
With these caveats aside, the Systemdek IIX remains as one if not the best value in used turntables, often selling with its original Profile I, II, or Rega RB-250 tonearms for $300 or less.
Add a nice moving magnet or moving coil cartridge commensurate with this deck, and for anywhere from about $450 - $600 you'll have a turntable that will outperform a Rega Planar2 or 3. And for less than a third of what a new Planar3 is selling for these days.
I like the Grado Reference Platinum ($300 retail) and Sumiko Blue Point Special ($399 retail), as I consider them to be at the all crucial point of diminshing returns for your audio dollar. Spend less and in my opinion you will find yourself compromsing on sound quality a bit too much.
Of course you can spend a lot more, and by this I means thousands of dollars for a first rate low output moving coil cartridge. However, in my own experience, the improvements that you hear (while noticeable) will not be worth anyway near the exorbitant prices that you will fork over for these pieces of sonic jewelery.
How much is Clear Audio's most costly cartridge seling for these days? $11,000 or so? For less than that, I have a system which comprises more than thirty pieces of gear; much of which was state of the art in its day, and which will still give many of these expensive newer components a run for the money.
If you spend 10 grand on a phono cartridge what is your entire system going to cost? $100,000 or perhaps even more? Then again, I guess if you're rich it really doesn't matter. If money can bring you enjoyment in this life, such an exorbitant expenditure can be justifed. However, for the rest of us, there is as I said earlier, that critical point of no return in hi-fi in which we make the distinction between audiophiles and audiofools!
Stay tuned....
Earlier ...
The Antique Sound Lab Wave AV25
After the large electrolytic capacitor in my Dynakit Stereo 70 gave up the ghost (making one hell of mess as it did), I decided to search for a new tube amplifier.
Although I could have afforded to spend more at the time I was looking to spend a grand or less. I wanted a low powered tube amplifier which I could use with my Linn Classik CD receiver. Quicksilver Audio immediately sprang to mind, as did Antique Sound Lab; both of whom offer excellent amplification for the dollar, and a few of whose products I have already owned.
I was also interested in the second generation of VTL Tiny Triodes of which 500 pairs had been minted, with few remaining.
I was either going to purchase a new tube amplifier or a used one which when new had been more costly than those which I was considering purchasing new.
For a brief moment I thought about purchasing a vintage H.J. Leak amplifier, only to quickly reconsider. As much as I enjoy vintage gear, amplifiers take one hell of a beating. Moreover, having already seen an ancient pair of Heath W-3M's suffer the loss of their output transformers within a day of one another, as well as a Heath W-5M losing one of its precious output transformers a short time later, I decided that I'd rather have a new amplifier with a good warranty, and avoid the associated headaches of vintage gear.
I did this while remembering fondly how nice these amplifiers once sounded, as well as the groady looking. yet excellent sounding Leak Stereo 20 that I owned about 18 years ago.
I gave some serious consideration to purchasing an Antique Sound Lab 50wpc stereo amplifier, whose nomenclature now escapes me, as well as a pair of VTL Tiny Triodes, before settling on the Quicksilver Mini-Mite monoblocks which I now own. A short time after purchasing the Quickies I decided that they would stand up much better over time if I had another pair of tube monoblocks in which to relieve them from their work load from time to time.
I had remembered reading about Antique Sound Lab's loss leading Wave 8 monoblocks for the unbelievable cost of only $99 each. It is doubtful that ASL made much money on these cute little amp's at all; especially since I have seen them selling for upwards of $100 more for the pair than they sold for new -- especially the ones without the captive mains.
When I went to the Divergent Technologies Website, I noticed that the Wave 8 was no longer available and that the Wave AV-25 was now ASL's least expensive tube monoblock amplifier - replacing the Wave AV-20. Anyday now I expect the Wave AV25 to be replaced with an *AV-30 or 35.
*I have noticed that in the case of the AV 20, there may have been a general minor problem with the power transformers on these units, resulting is a slight but noticeable hum when operating them. This appears to have been remedied with the ASL Wave 25. Moreover, one AV 20 owner removed the power transformer from one of his amplifiers, and replaced it with one from a AV 25 and then reported that the hum he'd heard with the AV-20 power transformer was gone with the AV-25.
So caveat emptor on the AV-20.
I gave Divergent a call and within days was listening to a new pair of ASL Wave AV-25's. While the AV-25's were three hundred dollars cheaper than the Quicksilver Mini-Mite's, there were a few nice additions which the QS-25's lacked. For instance, a nice pair of gold plated banana style binding posts, a face plate and blue *LED. *These LED's look nice enough but can quite literally bore a hole through your retinas when viewing them in the dark.
There was also no question when taking a gander at the AV-25's innards, that this was a significant step up in quality from the Wave 8; and according to Divergent Technologies' Tash Goka, a noticeable improvement in sound quality as well. "These are real amp's" Tosh told me as I inquired as to whether or not they would drive my fairly efficient Linn Kan V book shelf monitors.
Tosh assured me that they would, and he was right. The AV25's even work quite well on my slightly less efficient Linn Kan I's (86db@1watt vs 88db@1watt for the Kan V). I would go as far as to say that the AV25's are finished almost as nicely as the Mini-Mites, and would probably cost at least what the Mini's do if these amp's were manufactured here in America.
I would, however, give the overall edge to the Mini-Mites in sound quality, in my opinion due to a higher quality transformer and more simple point to point pcb-less construction.
However, the AV25's are still an excellent sounding amplifier, making good use of the Chinese brand 6L6 output tubes supplied by Antique Sound Lab. They have a nice and artculate midrange with much of the bloom that the Quickies are also known for.
It is just unfortunate that the AV25's don't have the tube compliment that the Mini-Mite's do, which enables the user to take advantage of tube rolling, while tailoring the sound of the Quickies to their specific listening preferences.
During the cooler months of the year I use the AV25's along with the Mini-Mites and my old Electrocompaniet AW-65, as the main power amplifiers in my system. And I truly believe in the saying that a well designed and constructed low power amplifier is better sounding than a more powerful one.
And as is the case with the ASL and QS 25's, in the past I found the same to be true of my old Classe DR-2, DR-3VHC, Bedini 25/25 and Electro AW-65 (although the Electro has a bit more power it is still considered to be a low power amplifier by American standards).
So if you are looking for a good sounding tube amp and can get by with only 25wpc, the Wave 25's (like the Mini-Mites) are a good bet. And contrary to one review on the Wave 25 which stated that they don't produce much bass, that may be true with a full range speaker, however. they produce a surprising amount of bass with my Linn Kan I and V speakers, when the speakers are on Kan stands and placed close to a wall as Linn recommends.
Overall, the ASL Wave AV-25 is a great sounding little amplifier at a reasonable price, that provided it's used with efficient speakers should last for years.
Stay tuned...
Earlier ...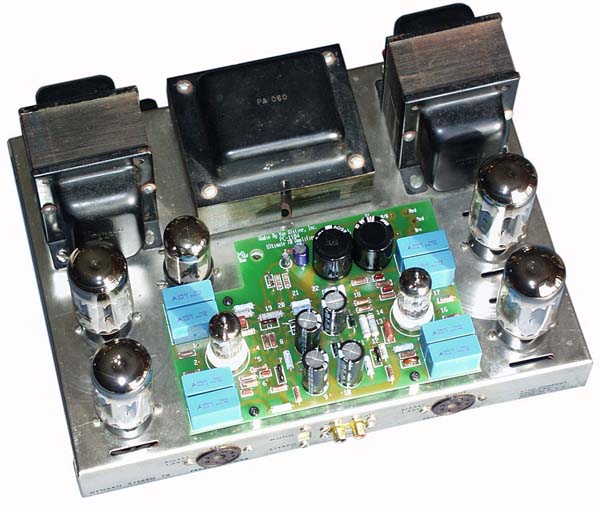 AVA Ultimate 70
Time To Get That Dyna ST-70 Outta Hibernation
Like many other kids growing up in the 1960's, I remember my Dad being bitten by the hi-fi craze, and actually building a Dynakit Pas 2 preamp and Stereo 70 kit. He did not have as much of job with the ST-70 as he did with the Pas 2, because the ST-70 was already factory wired.
Forty eight years later, the Stereo 70 and Pas 2 still remain in our family; I now have the Stereo 70 sitting in a cupboard with a *blown rectifier capacitor -- it took two days of blowing out the acrid smoke that filled my listening room when this component **shuffled off its mortal coil two years ago(so to speak).
*The blown capacitor has since been removed from the ST-70 as has its original pcb. The only question now is will I just keep it as a conversation piece, or rebuild it?
**It wasn't all bad though, since it gave me an excuse to check out some of the new tube amplifier offerings available here in the States as well as abroad, which resulted in my purchase of two pairs of low powered tube amplifiers; a really neat pair of Mike Sander's Quicksilver Mini-Mite monoblocks and a pair of cool looking monoblocks from the Chinese manufacturer, Antique Sound Lab, known as the ASL Wave 25.
At the time I had been looking at several other amplifiers, including a pair of the second generation of VTL's "Tiny Triodes, but decided on the Quickies and Wave 25's instead. The Tiny Triodes are great little amp's for sure, but in my estimate are no better than the Quickies and only a bit better sonically than the ASL 25's.
No doubt the Harvey Rosenberg type of marketing genius applied here by VTL with the TT 25's did not hurt their sales either -- for example, including a certificate of birth for each of these amplifiers!
Moreover, the fact that for an extra $200 over the $1500 you'd pay for the Tiny Triodes, I had both the Quickies and ASL's - a much better value (IMO).
As for Dynaco, for nearly five decades, their family of amplifiers, preamplifiers and speakers have kept many an American happily engaged in listening to their favorite genres of music. No small accomplishment in an industry abjectly overcrowded with competitors.
And while the Dyna name (last used by *Panor Corporation in the early 1990's to reintroduce an updated version of the classic Stereo 70 and Pas 3 preamplifier) is no longer being propagated for use with new equipment, Audio By Van Alstine still offers a nice rebuild of the Stereo 70 for those of us who still own one of these vintage tube amplifiers.
*Shortly after Panor Corporation offered these new items, there was some controversy in regard to whether or not the circuit being used in the new Dyna ST-70 was in fact the property of Frank Van Alstine and his company, Audio by Van Alstine.
I am not certain of this, but I believe that the circuit was in fact determined to be Frank's property; an unfortunate occurance for the people at Panor Corp. and which was likely responsible for the short commercial life span of Panor Corp's new Dyna ST-70.
As I recall "The Absolute Sound" reviewed the Dyna ST-70 MKII and liked the unit, which would have certainly (along with nostalgia for the original ST-70) helped to boost sales.
To Rebuild Or Not To Rebuild
For the past decade and a half I have been kicking around the idea of buying a Stereo 70 kit to revamp the amplifier that my Dad semi built back in the early sixties, since the transformers are still in excellent shape and the chassis for the unit is rust free.
Hence, this particular ST-70 is an ideal candidate for Frank Van Alstine to work his "electronic magic" on. However, I am too tempted to rebuild this amplifier on my own, and may eventually just buy the *kit which Frank offers.
If you send your ST-70 to Frank he will remanufacture the entire unit for under a grand. The kit he offers runs about half that.
He has a Website where you can learn more about the Ulitmate 70 and the rest of his excellent products -- Google: Audio By Van Alstine.
Also check out the following Website in which this kit is actually listed by an audio enthusiast who not only ordered an AVA Ultimate 70 kit, but also posted two Webpages in regard to this kit (with photos of the kit itself -- which I could not find on the AVA Website) as well as step by step instructions for installing it and refinishing the Stereo 70 itself. This includes rechroming the chassis as well as sanding and repainting the bell housing on each of the transformers.
I was pleased to see this kind of attention to detail given to the Stereo 70, in that it has been such an important part of audio history, yet oftentimes not treated with the respect that say some of the British gear of the same era, such as Leak, Quad and Radford have been afforded.
While I decide whether or not to make this investment, I can always sort through my DynaKit ST-70 in order to get an idea of exactly what else gets changed out over and above the main circuit board.
Stay tuned...
Earlier...
The Inexpensive Phono Preamplifier
"However absurdly low the price tag, the piece still oozes NAD-ness. And despite my near-psychotic detestation of that cod-'classic', the reprehensible 3020, NAD still means street cred for the impoverished audiophile. It looks like a little NAD jewel.
It's 'fondle-able' and bijoux and everything else that you miss about nifty analogue toys of yore -- like Ortofon's in-line m-c transformers and the AudioQuest cartridge demagnetisers and Techics' stylus gauges. Best of all it works fabulously."
-- Audio Reviewer Ken Kessler

The aforementioned quote from one of my favorite audio writers, was from an article in the July 1998 issue of HI-FI NEWS & RECORD REVIEW, and in reference to NAD's foray into the outboard phono preamplifier market with its new PP-1; a moving magnet phono preamplifier that was quite literally small and light enough to easily fit in the palm of your hand.

I purchased a PP-1 after reading Ken's review and kept it for a while, before selling off my turntable and most of my record collection -- big mistake.

Looking back, the PP-1 was a great little phono preamp; however, one which should have had longer output leads running to the preamp.

Moreover, the NAD PP-2 betters the PP-1 in every category, while also including an excellent high output moving coil section which is so good for the money, that it's almost a giveaway. NAD was also savvy enough this time around to leave the choice of interconnects running from the output section of the PP-2 to the buyer. The PP-1's inexpensive cables (a cost cutting measure no doubt) were simply far too short to be of any practical value, forcing the user to site the corresponding turntable too close to the preamp -- IMO.

I have compared the PP-2 with the phono preamp in my Naim NAC62, as well as the one in my Electrocompaniet preamplifier, and found the PP-2 to be competitive with both. Although the MC phono stages in the full size preamps are a bit more articulate than those of the PP-2 - and far more costly in their day, the NAD still managed to acquit itself quite well; it was always musical, while erring only in omission, rather than the more noticeable area of commission.

Like its elder sibling, the PP-2 is one of those affordable pieces of gear that because of its musicality becomes an instant classic. Hopefully its innards will age as well as my 20 some odd year old NAD 3130 integrated amplifier has -- a neat and surprisingly good sounding amp with more than competent moving coil and moving magnet phono sections, and for a suprisingly low number of dollars -- I paid about 80 bucks for the 3130 on Ebay and thus far it has worked quite well.

I use it during the warmer months of the year up here in the Northeasten part of the United States; at times as a full integrated, while at others as a separate amplifier to use with my *Hi-capped Naim NAC62 and NAC42 preamp's; which both run in class B mode -- in other words, cool running).

*A notation on the Naim preamp's. The 42 sounds quite good with the Hicap even though it is only running one of the Hicap's twin 24 volt power rails. The NAC62 runs both rails, which for the most part benefits the phono section of the unit. However, in my experience, the difference between the two preamps is not in the least dramatic.

I have found that the two sound very similar, greatly benefitting from the addition of the Hi-cap. In the present day with third generation Hi-caps selling new for upwards of two grand, olive colored ones selling for between $700 and $800, and nice recapped chrome bumpered ones selling for between $450 and $550, I was lucky to find the chrome bumper example which I presently own for $350 plus shipping.

It was recapped several yaars ago and in great mechanical shape. The cosmetics, like my Naim NAC42 and NAP110 are near mint -- perfect for the Naim collector who values the company's early days under the leadership of the brilliant Julian Vereker. Now I just need to find out why my 110 is blowing fuses.

Stay tuned...

Earlier....

Quicksilver 25

A Little Gem
December 2008
Tube Rolling The Quicksilver Mini Mites
I purchased a new pair of Quickies from the tube genius Mike Sanders himself, just about two years ago this month.
I really love the Mini-Mites since they have that palpable liquid midrange that Quicksilver is known for. The only caveat here is that you need a fairly efficient pair of good quality speakers for the Mini-Mites to sound their best. This along with a good front end allows the Mini-Mites and all of their 25 watts per channel to absolutely shine!
After having owned a six tube version of Quicksilver 8417 monoblocks back in the early 1990's, I wanted an updated version of the QS sound without the hassle of manual biasing. And while the Mini Mite monoblocks are slightly more than a third of the power of the 8417's, they are (when used with an efficient good quality speaker) easily their sonic equal. In fact, I prefer the sound of the EL-34 output tube to the 8417's.
And given that the Mini Mites are self biasing and able to accomodate *six different types of output tubes, the concept of "tube rolling" is certainly applicable with these little gems.
I would really like to find a matched quad of the original Gold Lion KT-77's (which are claimed by many tubophiles to be the sweetest sounding of all output tubes), however they are rare and very expensive -- difficult to justify such a purchase for a $1000 pair of amplifiers. A new run of the mill KT-77 simply will not do here.
Now if I owned a vintage pair of VAC PA90's, I could probably justify the expense. Have you ever seen a pair of *VAC PA90's with their matching outboard power supplies? In my opinion these as well as their lower wattage brethren -- the PA60's -- are the most beautiful looking amplifiers ever made. And if you can get by on only 60 watts per side of triode power (for the 90's -- I believe 40 watts of triode power for the PA60's, however not completely sure)the PA90's are easily one of the best sounding amp's ever manufactured.
*These tubes include the EL34,KT88,KT77,KT66,6L6 and 6550.
VAC PA60 Monoblocks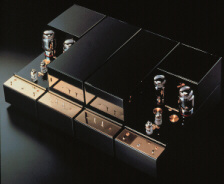 VAC PA90 Monoblocks
Notice The Extra 2 Output Tubes Per Amp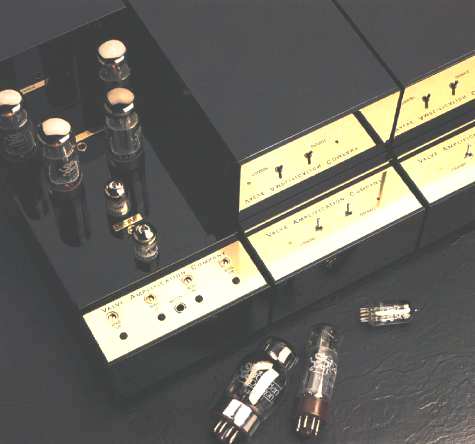 Back To Tube Rolling The Quickies

The other day I installed an ancient pair of Philips Miniwatt EL34's in place of the Chinese EL-34's that Quicksilver includes with the Mini Mites, and can already here their superiority.

Overall, there is a transparency to the midrange which easily exceeds that of the stock tubes, as well as a better overall sense of the individual instruments themselves being more clearly identified. From what I have read, the Miniwatts may well be rebadged Mullard EL-34's -- their point of origination, like many other great tubes, is Holland.

More On The Electrocompaniet AW-65

On an aside, I am also pleased to announce that the basic service that I did for my Electro AW65 appears to have completely remedied the left channel problem, making the $300 I paid for this classic worth every penny and then some.
Electrocompaniet Preampliwire IIA & Ampliwire 65

The Electrocompaniet AW-65

I have owned a number of really nice low powered amplifiers which in the modern day are considered to be classics. These include the original Bedini 25, Classe DR-2 & DR-3VHC, Krell KSA 50 and Electrocompaniet Ampliwire II. These were all excellent sounding amplifiers (except that my Amplwire II was a bit harsh in the upper mids -- probably needed to be recapped).

From my memory of these amplifiers I would characterize the Electro AW-65 as being quite similiar to them in the midrange -- especially the Classe DR amp's from brilliant designer David Reich -- the DR in the nomenclature of Classe's early amplifiers.

Like the DR-2 and DR-3VHC that I owned ages ago, the Electro AW-65 has an extremely transparent midrange; one with a tubelike bloom which darkens somewhat in its upper recesses, producing, as many an audio reviewer has in the past stated, a romantic sound.

As such, the AW-65 offers what I would describe as a seductive - *Levinesque in you will -- character to this amplifier. Simply put, it is an amplifier that I remove from my system from time to time, not because I have tired of its sound, but rather, because I have other excellent sounding amplifiers which I also care to use; while giving the old Electro a well deserved rest every now and then.

*characterized by the sound of early Mark Levinson gear such as the ML-2 monoblocks and ML-6 monoblock preamplifiers. Like its vintage brethren, the AW-65 was a classic from the day it was minted, offering what we loved about Electrocompaniet's original Otala/Lostro designed 25 wpc amplifier or yore, and the later Ampliwire II which it begat; yet with more usable power.

The Electro AW-65 was built at a time when the founder of Electrocompaniet, Per Abrahamson, and his staff were reported to have listened to each amplifier that they built before it left their factory.

I wonder if the new owners of Electrocompaniet are as fastidious?

Stay tuned!

Earlier...

December 2008

The Linn Controversy - Tunerwise That Is

There have been a number of reviews on Linn tuners, ranging from the extravagant Kremlin -- costing over $4000 in its day, to the Sneaky Kudos tuner-card that Linn offered as a modular addition to its Magic I integrated amplifier and later models including the Linn Classik CD receiver.

And while the reviewers have delighted in the "seductive sound" of these tuners, they were also less than impressed with their sensitivity. The lesser Linn tuners in particular here, since the more expensive Kremlin is better in this regard than its less costly brethren.

My Own Linn Tuner Experience

I have owned a Linn Classik CD/Receiver for the past six years and enjoyed its flexibility. However, I, too, have noticed that the tuner module (whatever they call this one -- Sneaky Kudos II perhaps?) is an excellent sounding unit, yet far from the best DX'er that I have ever used.

As a matter of fact, any of the practically dirt cheap Japanese tuners that I have purchased over the past few years can easily outperform the dx'ing capability of the Linn Classik's tuner section, including my Pioneer TX-7800 and Sansui TU-217 -- both at least three decades old.

Even the Kenwood KT-5300 that I picked up on Ebay for $29.99 can clean the Classik's clock (please excuse the pun -- since the Classik does in fact have a programmable clock) in regard to the number of stations that it can clearly tune in.

And I live in the hilly part of Long Island's "Gold Coast" which is one of the best locales for picking up stations from the Tri-State area, including a few good ones from our neighbor across the Long Island Sound, Connecticut.

At first, I just thought that the tuner had to be calibrated, since other Classik owners have mentioned having found the need to do so. However, most reported that even after such a calibration, the Linn Classik's tuner offered less than stellar performance.

The frustrating part here is that the sound quality of the Classik's tuner section is excellent when given a nice strong *signal. Its weak link concerns a lack of sensitivity; one which I've also noticed with every Naim tuner that I have ever owned; including an NAT-01, 101, several O2's and 03's, and a few Leak Troughline II FM tuners from the early 1960's. The Troughline II is an extraordinarly insensitive tuner, which just happens to sound fantastic when properly serviced and used with a good quality FM stereo decoder.

*Note that at this moment I am listening to a college station which is coming in at full strength according to the Linn Classik's digital signal strength meter, and the tuner sounds fantastic! This is just an example of what I mean when I say that these these British tuners sound wonderful if they are given a strong enough broadcast signal.

However, the Troughline is no longer the bargain it used to be, with even poor examples selling for upwards of $100; and this doesn't include the hundreds of dollars in servicing and a good stereo decoder, which quickly add up and can take the cost of a Troughline II north of the $1000 mark. Well beyond what many nice American tube tuners from the same era are selling for in the modern day; including the McIntosh MR-65B, MR-67, and MR-71. All of which command greater resale value than the Troughline II -- at least here in the United States.

Maybe one of these days our international neighbors will focus as much of their attention on building tuners with better sensitivity; those that retrieve stations as well as they do in reproducing their broadcast material.

This would certainly be appreciated by those of us in the States, who enjoy just how good an old Naim NAT-03 or well sorted out Leak Troughline can sound with an excellent antenna.

But wouldn't it be even nicer to have a tuner with such excellent sensitivity, that an almost equal sound could be obtained from a simple dipole antenna hanging off your window?

Finally, with this in mind, these companies must also remember that not all audio enthusiasts want a massive albatross of an antenna perched atop their homes -- and of equal note, neither do their neighbors.

Stay tuned...

Earlier

....

Update On TT-700 & Tuner Of Interest

An attempt at cleaing out the chassis on the Nakamichi 700 Tri Tracer and lubricating its circuit boards has not returned the left channel to proper operating condition. I anticipated that this might be a problem, and will just have to live with one channel working properly at present. -- This unit is at least 32 years old and may well be as old as 36 years of age -- the first 700's were minted in 1973.

****** The Klimo Ertanax FM Tuner ******

Some years back I remember reading about this tuner in an old copy of Stereophile magazine. As I recall it was an expensive piece of gear from the mid 1980's that performed quite well, and was at the time comparned to its Marantz 10B predecessor.

I noticed that Audigon must have had one for sale sometime back, from an expired listing, however I have no idea if this tuner was actually sold, or if the listing just expired without any offers being made.

The tuner is impressively built -- similiar in heft to the legendary 10B, and at a cost of over $6000 at the time, remains as one of the most expensive FM tuners ever built.

I will see if I can manage to photograph the photo that Stereophile had of this unit in the article and post it when I have some time.

Stay tuned...

Earlier....




Running Electro Pre/Amp Combo/NAK TT 700 Service

Since doing a basic "clean-up" of my Electrocompaniet gear yesterday (see prior post below), the stuff sounds so good that I have installed it in my system to give it a good workout.

There's something so special about this old Electro gear, as it represents the early days of solid state development, and was one of the few companies that actually made good sounding ss gear right from their inception.

The understated elegance of the AW-65 and Preampliwire IIa also speak of a simpler time in hi-end audio -- the days before $100,000 exotic amplifiers like Audio Note's Ongaku, and speaker systems that you need a forklift to get into your listening room.

I am now in the process of giving the same basic service to my vintage Nakamichi Tri Tracer 700 cassette deck -- the first three head cassette deck, and the one that really put Nakamichi on the map for building quality cassette decks; decks that could hold their own with the best reel to reel recorders at the time. The year was 1973, and it would turn out to be a boon for Nakamichi, who along with Tandberg and Revox, would dominate the domestic tape deck market for the next few decades.

My 700 TT is making some noise in the left channel and really needs a complete going over. The guy I purchased it from on Ebay claimed to have "serviced it," but with all of the cobwebs inside its chassis, I seriously doubt that he did much more than turn it on to make sure that the meters lit up.

Hopefully this minor service will do for the Nakamichi, what it's done for the Electro Ampliwire 65.

Stay tuned!

Earlier...




Finally Attended To The Electro AW-65

Many months ago I purchased an Electrocompaniet AW-65 to match up with my Electro Preampliwire IIA -- both are roughly two decades old.

The preamp has worked well all along, however the *AW-65 had a very noisy left channel when it arrived; one which would intermittently cut in and out. I set the unit aside thinking that it might be suffering from some bad capacitors and need a fairly expensive service.

*As it turns out after going through both units, the preamp has been contributing to the noisy left channel as much as the AW-65 has, and after this service is the only one of the two components which is still a bit noisy in the left channel -- the AW-65 was tested with the Naim 62/Hicap, and is nice and quiet now.

There is also no doubt that the *Ebay seller of this item knew that there was a problem with it which he neglected to inform me of. Had he felt that the unit was in perfect working order, I doubt that he would have let the AW-65 go for the $300, since it should be worth at least $400 - $500.

*Beware of Ebay when bidding on vintage gear, since it's easy to get burned. Even by sellers who are in the used audio business.

However, the $300 price of the AW-65 was fair, given that the amp is beautifully made and great sounding; so I never bothered to complain to the seller about his deliberate omission of the problematic left channel.

Today, I decided to take the covers off the AW-65 and Preamplwire IIa in order to clean out twenty plus years of dust. I took a can of CO2 and blew out the chassis of the AW-65, then sprayed the right and left channels of the amplifier with some old tuner cleaner -- basically silicone.

I then set about the task of cleaning up the grimy areas as best I could, then let the unit dry out for an hour.

Upon turning the AW-65 on, I noticed the usual click, but not the typical white noise from the left channel that I had been hearing -- I concluded that the left channel was again, completely out as it had been when I took the AW-65 out of the system about a week ago.

However, when I turned up the volume on my Naim NAC 62/ Hicap, I was pleasantly surprised to find music coming from both the right and the left! channels of the AW-65, and without the prior white noise that I'd heard in the left channel before it went out altogether.

Now in many instances, such noise and intermittent trouble with a piece of hi-fi gear is a sign that there is something amiss with the circuitry -- bad caps,resistors etc.

However, in the situation that I experienced with the AW-65, this was not the case. It just needed a good cleaning with CO2 and electronic cleaner.

This experience is further proof that before spending money to have your older hi-fi gear serviced, it is worth going through it with some CO2 to blow out the years of dust and grime that have accumulated, as well as spraying the connections with some electronic cleaner. It may just bring an old amp like the Electro back to life for many future years of service and for practically free.

The AW-65 is now sounding quite good with just the aforesaid service -- the cost of this home tune up -- a half an hour's worth of my time plus all of 50 cents worth of CO2 and electronic cleaner.

For this I have an amplifier that cost me $300 -- a classic piece of hi-fi gear in which taking current inflation into consideration, would cost at least $2500 to replace in the present day.

Now if my Preampliwire IIa is functioning fine after the same minimal servicing, for $600 (I paid just under $300 for the Preamplwire IIa) I have myself one heck of a nice Norwegian amplifier combo. At least $5500 worth of amp in the present day.

Stay tuned!

Earlier....




November Of 2008

Three recent additions to my ever growing Hi-Fi tuner collection are:


1977 Kenwood KT-5300

1978 Yamaha T-1

1979 Pioneer TX-7800

Price for these three tuners: $208 plus shipping

Replacement cost in the present day taking into account inflation: Just under $2000!

Tuner Update

I just opened the cover for the Kenwood KT-5300 only to find that unlike some of the other recent tuners I have purchased, this one was as clean as a hound's tooth. And I don't think it's because anyone cleaned it up either. This tuner has a sealed case containing no venting whatsoever, which has kept thirty plus years of dust from landing on its innards. So there's nothing left for this tuner, but to do what it was designed to do -- broadcast music.

Earlier....

The Kenwood KT-5300 was delivered this evening and after a quick dusting off has been playing happily for the past hour or so. This is the cheapest tuner I own and nothing special in terms of sound quality or DX'ing capability.

However, after using some rubbing alcohol to clean off two annoying marks on the facia, it's as cute as the dickins, with a small chunky shape and single tuning meter for the AM/FM sections. It has a nice contrast of colors between the silver faceplate, white tuning dial and gray background behind the dial, all set off by the tiny red LED stereo indicator.

And surprisingly enough, on a quick trip through the dial it brought in a number of stations quite well (of course I live in a great area for FM reception -- a tuner lover's dream in fact).

I will open the cover and blow out the dust and possible cobwebs that may be there after 31 years. According to TIC (Tuner Information Center Website) this tuner was minted in 1977. And when I get a chance, I'll also clean the tuning dial (of course avoiding the actual print on the dial. -- Made that mistake with an old Pilot tuner of my Grandfather's, which is another project down the road).

Stay tuned...


Earlier in the week:

The Pioneer TX-7800 just arrived this afternoon and it's a beauty. In 1979, one of the last years for analogue tuners, this baby retailed for $350 -- taking inflation into account in the modern day, around $1100 smackeroos. The tuner cost me $59 on Ebay plus shipping. And for a rare change, it was just as described -- beautiful cosmetic condition and in excellent working order with all the dials and lighting working properly. Hopefully the situation which remain this way.

The face plate on the Yamaha T-1 is in nice shape but the metal cover is an absolute mess -- loaded with scratches. So when I get a chance I am going to spray paint it with some flat black Rustoleum paint and really get this great sounding classic back to the cosmetic condition that it deserves to be in. I have read that the T-2 has a better front end for improved DXing capabilities, however I seriously doubt that this translates into much better sound than the T-1; which is a terrific sounding piece of gear.

I am still awaiting the arrival of the Kenwood KT-5300 and will post the 411 on it once I have given it a listen.

As always, stay tuned and enjoy the music!


Still earlier...

I just received the Yammi T-1 yesterday and have been running it most of last night and this morning. This is a really neat looking tuner with pretty green lights for the tuning, signal strength and dial meter, against a jetblack facia. It also has a very nice sound; a warmth in the midrange that is completely nonfatiguing to listen to.

The T-1 also has an interesting feature on the dial pointer, which actually brightens when you tune to a specific station, making it unnecessary to look at the tuning meter until you get to the station. Then you can fine tune the station for the best reception. The Ebay seller had stated on his site that this feature was not working on the tuner, but must have had the bulb *replaced before he shipped it out to me.

*The bulb has since gone out again!

I'll have a photo of this piece of gear on the site shortly, along with the TX-7800 and KT-5300 when they arrive.

August Of 2008

McIntosh MR-65B Arrives

My new (old - circa 1963) McIntosh tube tuner arrived early this evening via FedEx, and is a beauty. Typical of the conservative styling of the time, it is if anything elegant, yet understated.

I have been running it through its paces over the past hour or so, and its sound quality is quite impressive; especially for a tuner that is now between 45 and 46 years old!

I will include a further update as I become more familiar with this tuner and its many functions -- something I am glad that I found the above Webpage for "free" McIntosh manual downloads for.

UPDATE

It's been far too warm here in the Northeast to use the McIntosh MR-65B. The tuner, like all McIntosh tube units runs quite hot -- especially since this one is in a heavy wall nut cabinet with no ventilation screen or slots cited over the tuner's tubes.

The end result is that the tuner will only be used during the cooler months of the year, where it will not run quite as hot. I have the same situation with my Quicksilver and Antique Sound Lab tube monoblocks. It is simply too warm here during the Summer time to use this tube gear. However, once the weather cools down, the tube gear is a delight to use, given the warmth it throws off on a brisk fall evening.

I recently purchased a second McIntosh MR-65B in nearly as good a condition as the first which I purchased and wrote about above.

This one is sans walnut cabinet, so it's running cooler than the first one. These are great sounding tuners with darn good DX performance considering they are nearly a half a century old.

Given the cooler weather over the past week or so, I will be breaking out the Quicksilver Mini Mites in the next few weeks, and will update this site when I do so.

Vintage Revox B261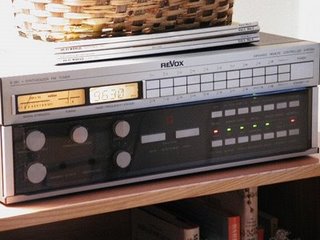 Classic Marantz Model 125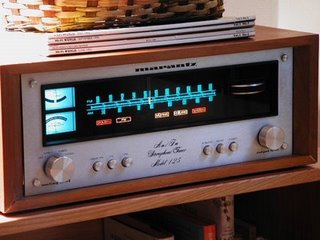 Vintage McIntosh MR-65B -- For Use In Cooler Months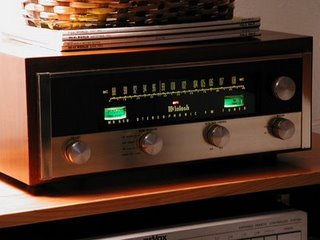 My First Piece Of McIntosh Gear
I just won an auction for a McIntosh MR-65B which appears to be in excellent condition. I say appears because with Ebay one never knows. The unit was not inexpensive, but not ridiculously priced either.
And the fact that I just found a great Website for free downloads of McIntosh products and am presently downloading an owners manual for my new (old) MR-65B, will probably end up saving me at least $30, between the cost of the manual and shipping from some Website that actually gets a hold of these manuals and then sells them to the public.
Did you know that these service manuals are in the public domain and free if you can locate them? Which is why I am including this terrific Website listed below:
It has owners & users manuals, as well as schematics for quite a few pieces of vintage McIntosh gear -- all free to those who access this site.
I will update the status of my new (old) McIntosh MR-65B when I get a chance. Hopefully, it will look/function as good in real life as it's been represented to on Ebay.
Stay tuned...
Earlier...
July Of 2008
Update On My ReVox B 261
From the time that I received my Revox B 261 tuner (a few weeks back), I noticed that one of the two incandescent bulbs appeared to be much dimmer than the other.
So today, I took the top cover off the B 261 and removed the steel cover which housed these bulbs,only to find a green plastic strip about 8 inches long, which was used to give the front tuning meter and digital display a slightly greenish hue. However, in the areas around these bulbs, the area on this strip had turned black (especially in the area of the bulb for the tuning meter), greatly diminishing their intensity.
Upon removing the strip the bulbs now show through so that the front dials are much brighter than before. If you own a ReVox B 261 or are thinking of purchasing one, this is something to keep in mind.
I will be updating this site as time permits to include photos of my tuner collection, which now numbers seven (Lucky #7). That is when my newly purchased McIntosh MR-65B arrives. Hopefully it will be in good shape. FEDEX is delivering it, so if there is a problem, I will certainly post it here.
As always, stay tuned...
*Note that this Website does not endorse any of the consumer adds listed at the top or bottom of this Webpage. So Caveat Emptor/Lector (Latin for let the buyer/reader beware) is highly advised for those who access these sites through this Website, since I cannot guarantee their veracity.